By Harrison Smith July 16, 2018
https://www.washingtonpost.com/local/obituaries/milton-edgerton-trailblazing-plastic-surgeon-for-children-and-transgender-patients-dies-at-96/2018/07/16/28bcae0a-8836-11e8-8aea-86e88ae760d8_story.html?noredirect=on&utm_term=.7ae8c4fa1897&wpisrc=nl_sb_smartbrief
---
When Milton Edgerton began his career as a plastic surgeon, his patients were wounded veterans of World War II, troops scarred by shrapnel or bullets or flames.
Later, as one of the foremost medical practitioners at Johns Hopkins University and the ­University of Virginia, he treated cancer patients and burn victims. He reconstructed hands, breasts, ears and — on one headline-grabbing occasion — used novel surgical techniques to help a girl who was "born without a face," as was widely reported at the time.
By the mid-1960s, he was also treating transgender patients, then known as "transsexuals," who turned to Dr. Edgerton in an era when few surgeons in the United States offered sex-reassignment operations.
"The self-confidence and sense of wholeness of the transsexual is what it's all about," he told the Journal of Clinical Psychiatry, after co-founding the country's first sex-reassignment surgery unit at Johns Hopkins. "This is really cosmetic surgery because these people are already living as members of the opposite sex. It is gender-confirmation surgery, not gender-change surgery."
Dr. Edgerton, who was 96 when he died May 17 in Charlottesville, was widely recognized as one of the most daring and influential plastic surgeons in America. A founder of the Plastic Surgery Research Council, a leading scientific organization, he took on cases that some colleagues feared were too risky or controversial, and he served as a teacher and mentor to scores of younger students as the top plastic surgeon at Johns Hopkins and then U-Va.
"He was a master at patient conversation, a master patient manager and a master surgeon," said Paul Manson, who succeeded Dr. Edgerton as chief of plastic surgery at Johns Hopkins. "You could name just about any item in plastic surgery and he was innovative.
Dr. Edgerton wrote four textbooks, including one of the first works on human ear construction, and wrote more than 500 academic papers, presenting research on everything from X-ray exposure and thyroid cancer (they were linked, he found) to the purported medical consequences of bralessness. (Although freeing the nipple causes the breasts to sag, he told the Associated Press in 1972, "the only real objection to allowing the breasts to become pendulous is an aesthetic one.")
The field of plastic surgery was still in its infancy when Dr. Edgerton began his medical studies at Johns Hopkins in the 1940s as a protege of John Staige Davis, one of the first dedicated plastic surgeons in the United States.
Dr. Edgerton later returned to become the school's first plastic surgery resident. He was serving as its first full-time chief of plastic surgery when, in 1965, he joined psychologist John Money and endocrinologist Claude Migeon in founding the Johns Hopkins Gender Identity Clinic. Initially shrouded in secrecy, the clinic marked the first time an American hospital performed sex-reassignment surgeries, also known as gender-confirmation or gender-affirmation surgeries.
"If the mind cannot be changed to fit the body," clinic chairman John E. Hoopes said, after the group began publicizing itself in 1966, "then perhaps we should consider changing the body to fit the mind."
Dr. Edgerton had become interested in sex-reassignment surgery more than a decade earlier, around the time Christine Jorgensen traveled to Denmark for the procedure en route to becoming an actress, nightclub singer and America's first transgender celebrity.
Because only a few private surgeons performed the operation in the United States, most patients visited clinics in Europe, Mexico and Morocco, where the operations were sometimes botched.
"Not a single patient, no matter how bad the surgery that had been performed, regretted his or her trip to have the operation. And that was pretty impressive," Dr. Edgerton told the magazine Baltimore Style.
Through the clinic, his patients included writer Dawn Simmons (the former Gordon Hall), who once praised his "miraculous hands" and claimed that Dr. Edgerton's surgery was so successful she had become pregnant. "We'd love for you to be pregnant, but there's nothing we can do at this point to provide fertility," Dr. Edgerton recalled telling her.
By 1969, according to Baltimore Style, the clinic had received 1,500 requests and performed 20 surgeries. It had also provided guidance to surgeons such as Stanley Biber, a Colorado doctor who, by his count, went on to perform more than 4,000 sex-reassignment operations.
At the same time, however, Dr. Edgerton and the clinic were buffeted by criticism that such procedures were unethical or, at best, ineffective. Jon Meyer, who oversaw the Sexual Behaviors Consultation Unit at Johns Hopkins, concluded in a 1979 study that the desire to change sex organs was merely a "psychiatric defect" and that the Gender Identity Clinic's doctors "were colluding surgically in what was a symptom of disturbance."
Dr. Edgerton was among those physicians who were harshly critical of the Meyer study and its methods. By then he had moved to the University of Virginia, where in 1970 he established — and led — one of the first plastic surgery departments in the country.
When the Johns Hopkins clinic was shuttered, soon after the release of the Meyer study, patients were steered toward Dr. Edgerton.
Long shadow cast by psychiatrist on transgender issues finally recedes at Johns Hopkins.
Last summer, Johns Hopkins began offering gender-affirmation surgeries once again. "It has been enormously successful," W.P. Andrew Lee, chairman of the school's plastic and reconstructive surgery department, said in a phone interview. The program, he added, has "received well over a thousand phone calls" from interested patients.
Milton Thomas Edgerton Jr. was born in Atlanta on July 14, 1921. His father, also a Johns Hopkins graduate, was an ear, nose and throat physician. He received a bachelor's degree in chemistry from Atlanta's Emory University in 1941 and graduated from medical school at Johns Hopkins in 1944.
Dr. Edgerton treated combat wounds at Valley Forge General Hospital in Pennsylvania before returning to Johns Hopkins, where in 1969 he performed one of his most difficult and highly publicized procedures, a 13-hour operation on Debbie Fox, a 13-year-old from Tennessee.
Born with her eyes located near the sides of her head, she had already undergone 36 operations when Dr. Edgerton led one of the first craniofacial surgeries in the country, altering the configuration of her skull bones to move her eyes nearly two inches. The surgery also included work on her nose, which Dr. Edgerton reconstructed using a skin graft.
"Some of the techniques we used had never been done before, at least not in this country," Dr. Edgerton told the AP. "There were no books to read about such an operation."
The surgery was an unmistakable success, with Dr. Edgerton later removing the bandages from Fox's face to allow her to "see my whole face all at once" for the first time, as she put it in a memoir. She received a get-well-soon letter from President Richard M. Nixon and later created a foundation — now known as FACES: The National Craniofacial Association — to help other children with craniofacial disorders.
"If I have a career, I want it to be visible. I want to show my face," she wrote in the 1978 memoir, "A Face for Me." "Showing it will honor the doctors who gave me my face. It will honor my parents, who believed, even in the darkest days, that I would be made whole. It will please me because I've had too much of hiding in my life."
Dr. Edgerton also served as a president of the American Association of Plastic Surgeons, volunteered at a leprosy hospital in India and was on the governing council of U-Va.'s Miller Center, which specializes in presidential scholarship.
In 1974, he received what was then the highest honor in plastic surgery, the Dow Corning International Award of Merit.
He retired in 1994 and had struggled in recent years with multiple myeloma and malignant melanoma, according to an obituary published by Hill & Wood Funeral Service in Charlottesville.
His wife of 64 years, the former Patricia Jones, died in 2010. Survivors include four children, Bradford Edgerton, William Edgerton, Sandy Edgerton Bissell and Diane Edgerton Miller; 11 grandchildren; and nine great-grandchildren.
In 2011, Dr. Edgerton and his family announced the creation of the Milton T. Edgerton professorship of plastic and reconstructive surgery at Johns Hopkins, through a gift that helped launch a new, full-fledged plastic surgery department at the school.
It was, Manson said, the fulfillment of Dr. Edgerton's "longtime dream," and the culmination of his life's work.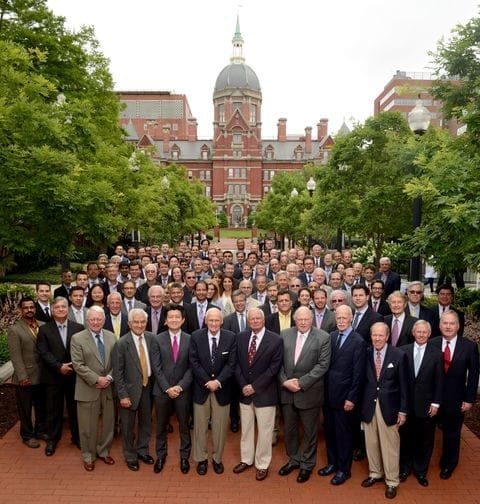 A 2015 reunion at Johns Hopkins gathered former plastic surgery residents who trained under Dr. Edgerton — front and center, in a navy jacket with a blue striped tie — or who were trained by surgeons trained by Dr. Edgerton. (Johns Hopkins Medicine).
Dean Kane, MD, FACS notes he attended the reunion and heard Dr. Edgerton speak of the great progress in Plastic Surgery since his involvement. I was fortunate to be there and "1 points of deviation" from those who taught me in the hand-to-hand mastery of our craft.