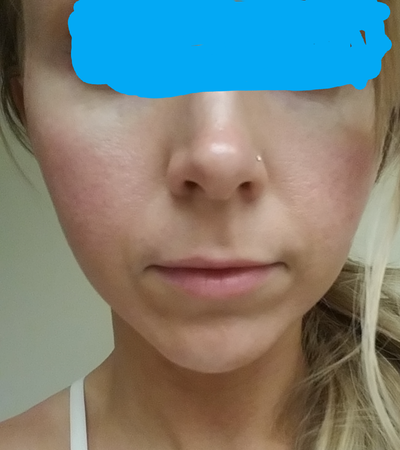 Q. Midface Lift or Mid Face Implant? 31yrs old but aging has been hitting me HARD since I turned 29 I dont get why.I always had a full wide face with full cheeks &all of a sudden one day they disappeared leaving my face looking longer, droopy, flat & hollowed. I cant stand these hallows! Im not real interested in fillers or grafting, looking for something more permanent. Would a midface lift or midface implants be a possible choices? I recently came across some info on Paranasal Implant and thought that might work for me as well?
A. Thanks for sharing your photos. I do see your concerns in the mid-face. Aging is not so kind but there are several options for you. 
The beginnings of facial skin laxity start when skin repair diminishes and passive skin aging relaxes downward. The skin stretches and elongates developing "5 waves" of skin laxity at :
hooding along the eyes,
lower eyelid / cheek junction or tear trough / nasojugal fold
nasolabial fold,
lateral mouth commissure and marionette folds,
jowls and neck.
Volume loss and / or drooping redistribution of soft tissues also contribute to the marionette folds, jowls and boxy aging facial appearance. 
Since I do not have the opportunity to examine you, I hope you will be helped by the information below. A mid-face lift and cheek implants are options but I believe you would best benefit with: 
Consult with a Board Certified Plastic Surgeon with an experienced Skin Team to examine, identify and manage your desires.
non-surgical skin tightening using Obagi ZO Skin Health Rx regimen and chemical peels,
with minimally invasive injectables including fillers and / or fat
Minimally invasive Silhouette Suture Suspension of soft tissues and skin
Please follow our blogs for more directed information. 
Everyone needs one or more layered improvement and in personalized combinations to achieve their optimal result. You can understand why it takes a talented individual, preferably a Board Certified Plastic Surgeon with great experience to evaluate your needs and find a plan that works best for you. 
Read more about similar topics:
This information is not meant as medical advice. It is provided solely for education. Our practice would be pleased to discuss your unique circumstances and needs as they relate to these topics.
Give us a call at  410.602.3322  or email Lauri@DrDeanKane.com and make an appointment soon. We're located on Reservoir Circle just a block off the Baltimore beltway, convenient to greater Baltimore, Annapolis, the Eastern Shore, Southern Pennsylvania, Delaware and Carroll County.