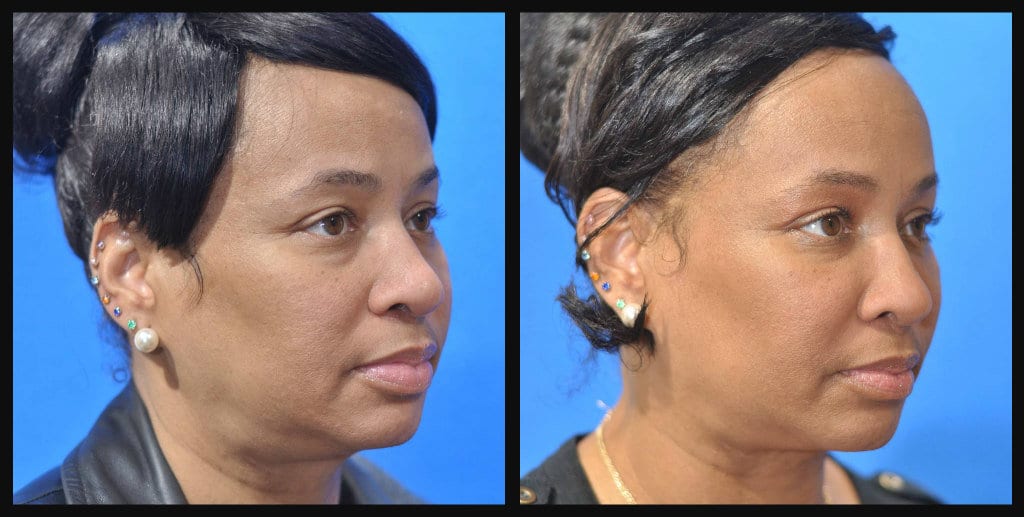 Q. What is a less invasive alternative to a facelift? Hello, I am 26 years old and every day in the mirror I feel I pull my face back slightly to see what I would look like. I feel the marionette line area has lost volume. Obviously I do not want to have a face lift at 26 and I doubt any surgeon would want to perform one on me. I have had some filler in my cheeks to lift the area but I don't want to build up too much filler in my face. I have saw things such as a threat lift etc but do they work? Thank you.
A. The beginnings of facial skin laxity start when skin repair diminishes and passive skin aging relaxes downward. The web of fibrous compartments under the skin loses fat, stretches and elongates developing 5 growing "waves" of skin at points of attachment such as the:
hooding along the eyes,
lower eyelid / cheek junction or tear trough / nasojugal fold
nasolabial fold,
lateral mouth commissure and marionette folds,
jowls and neck.
It is important to understand there are 2 layers of the face and neck to rejuvenate; the laxed visible skin AND the sagging soft tissues under the skin.
The top layer or stratum corneum of the epidermis is the rough, pigmented layer of the skin; creating most of the depth of the wrinkle. 
Exfoliation is best for this using:
microneedling,
Retin-A (ZO Obagi Skin Health System), 
some lasers and chemical peels. 
2.The second layer is the dermis which thins with aging. The natural collagen, elastin and hyaluronic acid (which hydrate and toughen the skin) are thickened by the use of: 
fillers (Restylane and Juvederm) 
Retinoids (ZO Obagi Skin Health System), 
Sculptra skin firming
PRP (platelet rich plasma) and micro-needling 
The next layer is fat. It also thins or droops with age and maybe:
filled (Restylane and Juvederm), fat grafting 
redraped upwardly with a Silhouette InstaLift Suture Suspension
4.The muscle which creases the skin into wrinkles and folds is weakened and rebalanced with Botox 
Don't forget to protect your skin from the elements! UV blockers, anti-oxidants, pigmentation control and acne / oil reduction will maintain your skin rejuvenation efforts.
The passively relaxing tissues we call aging is a spectrum of many different concerns for the patient. Generally, surgical options will last the longest due to the greater collagen production; an average of 7 years for the face. Many minimally invasive options which generally produce less scar or collagen will last less than this and non-invasive options up to a year. You should consider a plan which provides for you the goals and duration of results you are searching for. I hope this is helpful. I wish you all the best in your journey.  Please link to our website for considerably more information.
Everyone needs one or more layered improvement and in personalized combinations to achieve their optimal result. All surgical, minimally invasive and non-invasive procedures and their combinations should be discussed following a proper examination with a well versed, Board Certified Plastic Surgeon who performs all of these options so you will not receive a biased approach because he limited in his skills.
Read more about similar topics:
This information is not meant as medical advice. It is provided solely for education. Our practice would be pleased to discuss your unique circumstances and needs as they relate to these topics.
Give us a call at  410.602.3322  or email Lauri@DrDeanKane.com and make an appointment soon. We're located on Reservoir Circle just a block off the Baltimore beltway, convenient to greater Baltimore, Annapolis, the Eastern Shore, Southern Pennsylvania, Delaware and Carroll County.