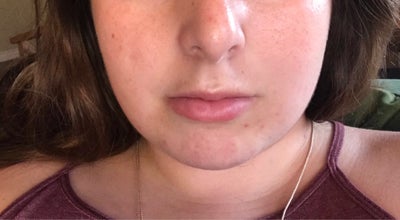 Q. Looking for a thinner more heart shaped face, Botox is masseter is not working, what are my other options? In 6 months I've had 3 courses of Botox in my Masseters. The first two times I had 20 put into each muscle. Most recently we went to 30 in each muscle. I'm not seeing the results I want and this is getting expensive ($500-700 per session!) See photos above – black top for before any injections, purple top for present face shape. What are my options for a thinner more heart shaped face? Shall I keep going with the injections or are there better more cost effective courses of actions.
A. Thanks for including photos. They are helpful but not complete without an expert examination.
Patients are turning to Botox of the masseters for reduction in lower jaw width without proper evaluation. If clenching your teeth does not produce a pronounced widening along the jawbone, there is no muscle hypertrophy to thin the jawline and other considerations maybe more helpful.
Facial skin laxity and undesired volume distribution of facial fat are generally the causes for a wide lower face that are reasonable cosmetic adjustments to be made. Jawbone width and parotid gland hypertrophy are more difficult considerations.
Facial balance or the heart-shaped facial appearance is created with:
Widening the upper cheek bone area and / or
Narrowing the lower jawbone area.
Options to consider with  your skillful, talented and well-experienced, Board Certified Plastic Surgeon include:
Filler or fat grafting to your upper face
Micro-lipo-contouring of the lower cheeks and jowls (using the fat to augment the upper cheek area)
Obagi, ZO Skin Health texture improvement and tightening of the facial skin.
Silhouette InstaLift facial skin suspension.
I hope this was helpful and wish you the best!
Read more about similar topics:
Face Options for a Long Lasting, Natural and Youthful Appearance
This information is not meant as medical advice. It is provided solely for education. Our practice would be pleased to discuss your unique circumstances and needs as they relate to these topics.
Give us a call at  410.602.3322  or email Lauri@DrDeanKane.com and make an appointment soon. We're located on Reservoir Circle just a block off the Baltimore beltway, convenient to greater Baltimore, Annapolis, the Eastern Shore, Southern Pennsylvania, Delaware and Carroll County.