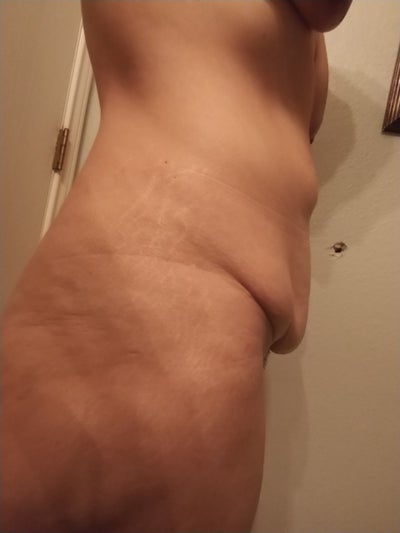 Q. CoolSculpting or tummy tuck? I've had 3 cesareans and have been over weight for 17 years. I have lost a lot of weight and my skin has shrunk much more than I expected. But my abdomen still hangs over at least 1-2 inches. I still have fat in my abdomen area that I have been struggling to loose. Would cool sculpting give me a flat stomach or more skin hanging once the fat melts?

A. Thanks for sharing your photo and congratulations on your terrific appearing weight loss!
CoolSculpting (CS) is a very limited option for fat reduction and while contraction can occur, skin tightening particularly of a 1-2 inch skin fold will not happen.
Tummy tuck based on your photo is your very best option. It will require a surgical incision and longer recovery but the results cannot be compared to CoolSculpting. You may use liposuction contouring along the flanks and back for any residual fat thickness and CS thereafter.
Please consult with a very experienced and skillful, Board Certified Plastic Surgeon to review your history and examine you to provide the best recommendations. I hope this is helpful. All the best!
Read more about similar topics:
This information is not meant as medical advice. It is provided solely for education. Our practice would be pleased to discuss your unique circumstances and needs as they relate to these topics.
Give us a call at  410.602.3322  or email Lauri@DrDeanKane.com and make an appointment soon. We're located on Reservoir Circle just a block off the Baltimore beltway, convenient to greater Baltimore, Annapolis, the Eastern Shore, Southern Pennsylvania, Delaware and Carroll County.