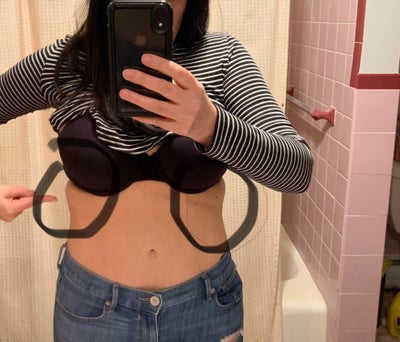 Q. CoolSculpting for the area below the bra? I'm wondering if the area below the bra would be benefited with coolsculpting or any other similar procedure. I know they've used it for bra fat on the back area but I haven't seen anything to address the area right below the bra but in the front . Thanks a lot for taking the time to respond to my concern.
A. Yes, if you can pinch it and it contains fat, a Certified CoolSculpting Team should be able to properly fit the bulge into the correct applicator for reduction. Remember that the bulge contains skin and fibrous tissues too. It is not all fat and only 20-25% of the fat is reduced per treatment. 
You will need to curb the carbs as well. While the procedure permanently removes those fat cells, only you can keep them from returning to the adjacent or other fat cells elsewhere. 
Read more about similar topics:
This information is not meant as medical advice. It is provided solely for education. Our practice would be pleased to discuss your unique circumstances and needs as they relate to these topics.
Give us a call at  410.602.3322  or email Lauri@DrDeanKane.com and make an appointment soon. We're located on Reservoir Circle just a block off the Baltimore beltway, convenient to greater Baltimore, Annapolis, the Eastern Shore, Southern Pennsylvania, Delaware and Carroll County.