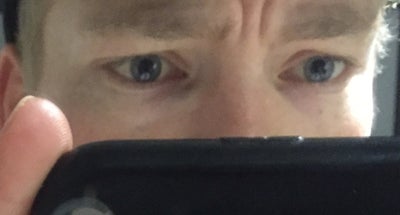 Q. Can Botox lower the eyebrows like so? My highbrows are very arched and high set, but I love the shape/position of the eyebrows when my brow is furrowed. I know by using botox to relax the muscles you can lower the eyebrows. I also know that when you do this, you're weaking the muscles antagonistic to the muscles that furrow the brow. My question is: is the effect of applying botox to the eyebrow essentially just causing a long term furrowing of the eyebrows? If so, how far can it be lowered? If not how does the procedure work?
A. Thanks for sharing your photos. They  do not provide a full appreciation for resulting forehead, and peri-ocular dynamic motion. What I do see is vertical furrows and medial eyebrow downward pulling when "scowling". 
Botox / Dyport injections are art and science. These drugs relax the muscle fibers injected or possibly diffused into. It appears the Glabella muscle group is well relaxed, allowing the orbicularis oculi muscle to recruit and pull the brow inward and down. The art is in selecting a experienced injector who understands the dynamics, position, depth of these muscle fibers and muscle groups,  how much and where to inject. The face muscles cross over each other and run from the bone to the skin creating folds and creases which other body muscles do not. 
Re-evaluation 2 weeks following injection by your injector or 2nd opinion Board Certified Plastic Surgeon will assess how to correct this concern. 
I wish you the best. 
---
Read more about similar topics:
This information is not meant as medical advice. It is provided solely for education. Our practice would be pleased to discuss your unique circumstances and needs as they relate to these topics.
Give us a call at  410.602.3322  or email Lauri@DrDeanKane.com and make an appointment soon. We're located on Reservoir Circle just a block off the Baltimore beltway, convenient to greater Baltimore, Annapolis, the Eastern Shore, Southern Pennsylvania, Delaware and Carroll County.