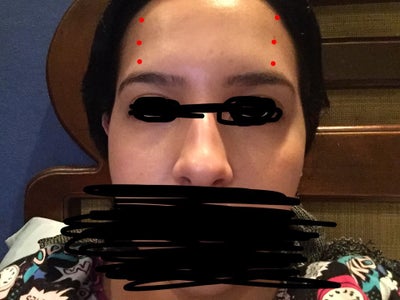 Q. Botox eyebrow lift: will I get good results? (female, 22 yrs old, first time). Got 20 units today and my end goal is to have a "higher set" eyebrow. I've been cursed with the resting b*tch face syndrome. Now I'm concerned that I threw away my money because i've been researching and turns out that where my doctor applied the botox is actually what lifts up the eyebrows, so i'm scared they'll end up looking droppier when im resting my face. what do you think my eyebrows will end up looking like? what can i do to fix it? I marked in red where i remember she injected the botox.
A. Thank you for sharing your photo. Botox injection weakens the muscle injected into it. 
If, in fact, your injector placed Botox in the red-dot sites of your photo, you will obtain a brow droop. 
This can be partially reversed with proper, advanced injection technique by a well skilled and Board Certified Plastic Surgeon along the medial and lateral brow areas.  Please seek such advice to mitigate the expected problem. 
I wish you the best!
Read more about similar topics:
This information is not meant as medical advice. It is provided solely for education. Our practice would be pleased to discuss your unique circumstances and needs as they relate to these topics.
Give us a call at  410.602.3322  or email Lauri@DrDeanKane.com and make an appointment soon. We're located on Reservoir Circle just a block off the Baltimore beltway, convenient to greater Baltimore, Annapolis, the Eastern Shore, Southern Pennsylvania, Delaware and Carroll County.