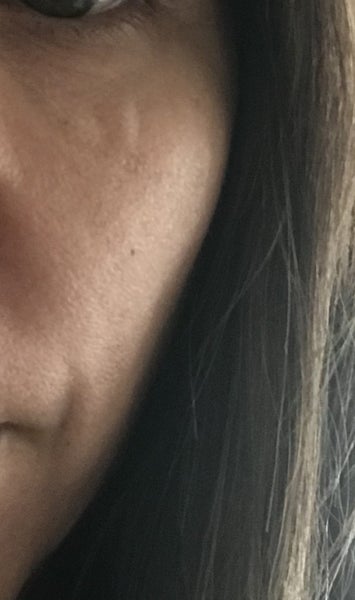 Q. Why do I have two tiny fluid sacs two weeks after Restylane Silk under eye? It's been 2 weeks since I had Restylane silk placed under my eye. The last two mornings when I awoke I've noticed what look like two fluid filled tiny sacs under my left eye. They subside somewhat throughout the day, and are worse first thing in the morning. Any thoughts?
A. Thanks for this question and sharing your photo. Sorry for the concerns. 
I believe this is an example of an observation I have seen evolving in mid-Atlantic region (Baltimore) during the last 5-10 years with injectable HA fillers.
It is not the filler itself that is the problem, it is climate change. My observations: 
·         I have seen more edematous festooning of the mid-lower anterior cheek with and without use of fillers. It comes and goes and worsens during pollen season. I have not related it to the timing of the day.  I believe this to be associated with more pollen or antigen related angioedema of these tissues. 
·         Referrals to ENT, Allergists, Rheumatologists, Oculoplastics, Infectious Disease experts have been unable to find a cause.
·         Cheek fillers with more hydrophilia (water attraction) also create a greater degree of swelling or edema than less water-loving hyaluronic acid fillers. 
o   Silk is wonderful because of its full, soft effect but it is also the most hydrophilic of the group. 
o   Restylane classic is less dramatic, and 
o   Defyne, the newest generation of HA fillers has less. 
o   Other families of HA fillers such as Juvederm have also caused this issue.
o   Radiesse, a hydroxylapatite mineral, non-HA, filler has little of this additional festooning presentation although it has more telangiectasia formation. 
·         New information suggests that skin tightening with laser may be helpful in tightening the skin over the festooning but does not answer the cause of or treatment of the draping tissues of the cheek inferior and lateral to the orbit.
·         I have found massage, non-sedating anti-histamines and steroid tapering medications to be of help. You may need to consider dissolution of the injectable with hyaluronidase as well. Ibuprofen and Tylenol are of no assistance with this response.
As you see, there are trade-offs to be discussed with your well experienced and skilled, Board Certified Plastic Surgery or Dermatology injectors. I wish you the best!
Read more about similar topics:
Understanding Festoons and How to Treat
This information is not meant as medical advice. It is provided solely for education. Our practice would be pleased to discuss your unique circumstances and needs as they relate to these topics.
Give us a call at  410.602.3322  or email Lauri@DrDeanKane.com and make an appointment soon. We're located on Reservoir Circle just a block off the Baltimore beltway, convenient to greater Baltimore, Annapolis, the Eastern Shore, Southern Pennsylvania, Delaware and Carroll County.