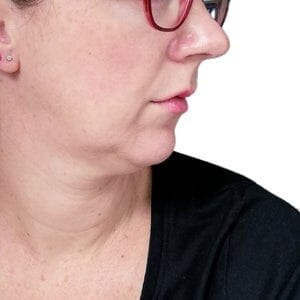 Q: I'm barely 40 and my face is melting into my neck. Am I too young to consider a lower face lift? I also have a prominent nose but wonder if a chin implant would balance this out some, as I don't think rhinoplasty is right for me? My mother has very prominent jowls and sagging and we seem to have horrendous resting bitch face. I have grown a second 'chin' too but in only 40…..My jawline is nowhere to be seen. What can I do?
A: Thank you for sharing your photos.
Following the age of 30, collagen production passively diminishes and the volume of our skin and soft tissues declines producing the facial folds (lateral brow, nasojugal, nasolabial, lateral commissures, marionette / jowl / jawline and neck).
There is no right time to have a facelift.
The main determinants in aging include: heredity, weathering and health.
The factors in deciding when to proceed with a facelift include: personal perception, skin excess (causing folds), cost and recovery time and when younger, the prolonged time to enjoy your investment in yourself.
Based on the limited images you have provided, I think a facelift would offer you improvement in the jowls, folds, jawline and neck contours you seek to improve.
Please consult with a Board Certified Plastic Surgeon with the full breadth experience of the above to evaluate and recommend what is best for you. If you feel that a rhinoplasty and / or chin advancement would help achieve your goals, as him / her. Maintain your investment with a Skin Health Team using retinoids and Sculptra for collage maintenance.
I wish you all the best.
---
Read more about similar topics:
Making the Decision to Get a Facelift
Skin ZO Obagi Facials and Peels
This information is not meant as medical advice. It is provided solely for education. Our practice would be pleased to discuss your unique circumstances and needs as they relate to these topics.
Give us a call at (410) 602-3322 or email Lauri@DrDeanKane.com and make an appointment soon. We're located on Reservoir Circle just a block off the Baltimore beltway, convenient to greater Baltimore, Annapolis, the Eastern Shore, Southern Pennsylvania, Delaware and Carroll County.