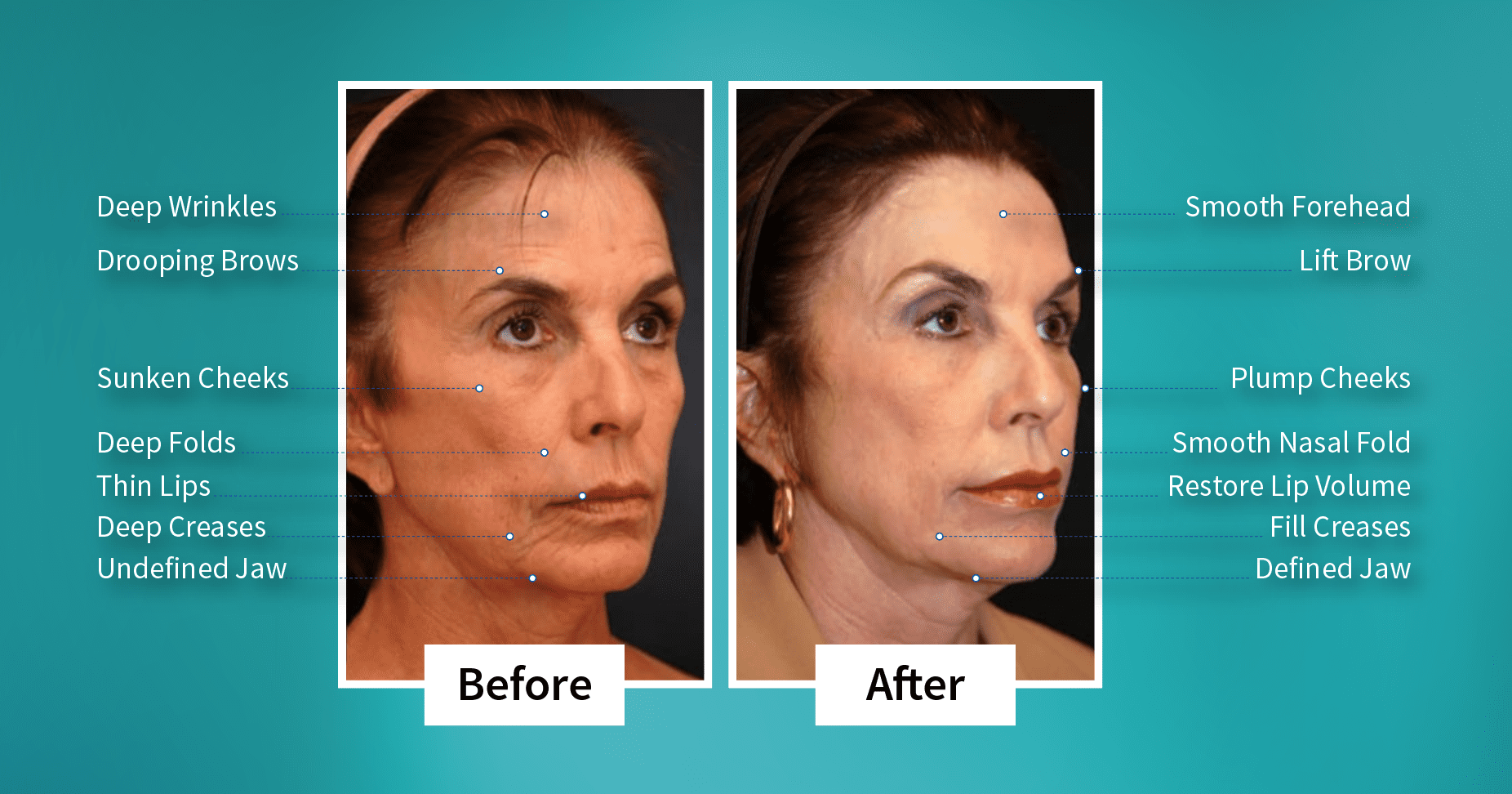 Q. Are there different Dermal Filler Injection Techniques?
A. Fillers often get a bad rap for being lumpy, bumpy and overdone. However, it is not the fillers that cause this, it is the techniques of how they were injected. Patients don't understand the importance of going to an expert injector who understands the anatomy of the face.
Dr. Dean Kane, a board certified plastic surgeon, has been performing injections of dermal fillers and Botox for over 33 years. He understands exactly how to perform these injections due to his surgical experiences of performing brow lifts, face lifts and neck lifts. A facelift surgeon truly understands the muscles and anatomy of the face which gives him/her the best advantage of knowing just how deep he needs to inject the dermal fillers.
Patients come to Dr. Kane due to his expert care and artistic ability to give a very natural appearance. For the cheeks, Dr. Kane uses a cannula technique to plump and fill the hollows under the lower eyelids. The cannula technique uses a blunted needle that reduces the risk of bruising and for him to go deeper under the cheeks tissues. Dr. Kane first numbs the cheek using a dental block that does not hurt at all and provides a pain free filler experience. His goal is to place the filler deep in the upper cheek hollow along the cheek bone. Dr. Kane's goal is to put the filler under your natural tissues which leaves your own tissues at the surface of the skin leaving a very smooth result with no lumps or bumps. 
For the lips, another major concern for all women who want the perfect plump. So many women are scared to do their lips for several reasons, the pain of the injections, the final appearance that they will look too big and they don't look like a duck.
Again, Dr. Kane has truly found the ideal way to help make our patients experience as pain free as possible. He uses his own unique numbing technique  before adding the filler into the lips. He also truly takes tremendous time in understanding the shape and concerns of every woman's unique lips. We use the variety of Restylane's dermal family of fillers to fulfill just the right type of filler. Some patients want to replace the lost volume while others the smoker lines. We use different dermal fillers to take care of each unique lip issues. 
Another area where Dr. Kane is unique is the way he addresses lines in the forehead. Many doctors will not inject a filler in the deep wrinkles between the brows. This is again due to their fear of not understanding the anatomy of the forehead and being close to the eyes. Dr. Kane is truly skilled at filling in the deep creases that Botox often cannot smooth away. 
While patients often try to find the cheapest way to get their injections, they become disillusioned because the injector was not well trained and they often get the lumps and bumps. When you come to Dr. Kane who truly knows the facial anatomy and who truly takes the time and is artistically creative in using the dermal fillers and Botox you come away with a very natural and refreshed appearance. The wonderful aspect about fillers is they give you instant improvements that generally about a year. Patients walk out feeling they just lost years of tiredness in just one treatment. 
Set up your Dermal Filler Consultation and Treatment
When you set up your consult, Dr. Kane provides the treatment the very same day so you don't need to come back. He takes pride in having all his patients come back two weeks post the treatment to make sure his patients are happy with their results. 
Give Dr. Kane a call today (410) 602-3322 to set up your consult and treatment today. You can also email Lauri@DrDeanKane.com to request your appointment. 
Read more about similar topics:
Filler
This information is not meant as medical advice. It is provided solely for education. Our practice would be pleased to discuss your unique circumstances and needs as they relate to these topics.
Give us a call at  (410) 602-3322  or email Lauri@DrDeanKane.com and make an appointment soon. We're located on Reservoir Circle just a block off the Baltimore beltway, convenient to greater Baltimore, Annapolis, the Eastern Shore, Southern Pennsylvania, Delaware and Carroll County.