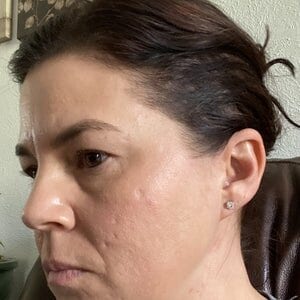 Q: What are the best non-surgical options for face, jaw, neck tightening, and possible acne scars?
A: Thanks for sharing your photos. They are helpful and demonstrate your concerns. I find some expected asymmetry; cheek, nasojugal, nasolabial and marionette folds associated with skin and fat laxity; and large pores and acne scars.
Collagen loss begins at 30 affecting the skin and fibrous network around the fat and muscle compartments. This allows the skin to relax and fold.
Good news is you have thicker skin and therefore the basic foundation to stimulate collagen. Unfortunately, this lead to some acne and scars.
Please consult with a talented Skin Team of a Board Certified Plastic Surgeon to review:
Non-invasive retinoid skin care to exfoliate and stimulate skin repair followed by deeper tightening TCA peels.
Minimally invasive injectable Sculptra, a bio-active filler to stimulate collagen firming from under the skin.

While subcision and filler of the acne scars are traditional, I am pleased with the use of PDO injectable threads creating a lift of the scar and dermal collagen stimulation.
In this same concept, PDO and PLLA thread lifts for the cheeks and jowls have worked well in my hands.
New fillers with varying volume and projection qualities for the folds and hollows.

Surgical options include lifts which will untether the acne scars, suspend the jowl, lip corners and cheeks, define the jawline, AND stimulate collagen production.

Don't forget botox to raise the brows and eyelid lift to reduce their heaviness.
I hope this is helpful. All the best!
---
Read more about similar topics:
Making the Decision for Facelift
This information is not meant as medical advice. It is provided solely for education. Our practice would be pleased to discuss your unique circumstances and needs as they relate to these topics.
Give us a call at (410) 602-3322 or email Lauri@DrDeanKane.com and make an appointment soon. We're located on Reservoir Circle just a block off the Baltimore beltway, convenient to greater Baltimore, Annapolis, the Eastern Shore, Southern Pennsylvania, Delaware and Carroll County.