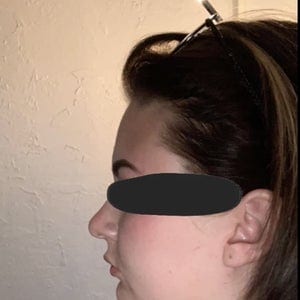 Q: Will Coolsculpting give me very good results for a double chin? I have had this double chin my whole life both when I was underweight by 20 pounds, as well as now with an average weight. I have an appointment this Thursday for a consultation on coolsculpting. I just want to get some other opinions on this as well. I was considering coolsculpting in combination with jawline filler. Any thoughts? (And thoughts on the timeline for which I would get jawline filler in combination with the coolsculpting?) Any non surgical suggestions welcome for my side profile.
A: Thank you for sharing your photo! It is helpful in identifying the fullness of your sub-malar (ie lower) cheek, jowl and neck as well as a less projecting chin. You will need to seek consultation with a Board Certified Plastic Surgeon to examine you and determine what is best for YOU. He or she must have non-invasive, minimally invasive and surgical options. Please consider:
CoolSculpting is non-invasive but limited in the ability to contour the neck and jawline with minimal if any skin tightening.
Minimally invasive micro-lipo-contouring to reduce AND contour the fat of the cheeks, jawline and jowl. See Case 3 and others on the link below.
In your case, I notice short chin projection.

A chin implant maybe helpful at the time of liposuction contouring but will not help a low submental triangle (ie the triangle under your jawline which holds the tongue, glands and muscles.
Consider jaw surgery and neck lift for that.
I know this is a lot of information and the costs, recovery, risks vs benefits need to be considered.
I wish you the best!
---
Read more about similar topics:
Neck Lift with Liposuction and Suspension
This information is not meant as medical advice. It is provided solely for education. Our practice would be pleased to discuss your unique circumstances and needs as they relate to these topics.
Give us a call at (410) 602-3322 or email Lauri@DrDeanKane.com and make an appointment soon. We're located on Reservoir Circle just a block off the Baltimore beltway, convenient to greater Baltimore, Annapolis, the Eastern Shore, Southern Pennsylvania, Delaware and Carroll County.