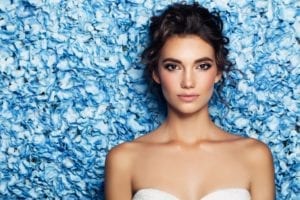 During the holiday season, your attention may be spread thin trying to choose the perfect gift for everyone on your list. When you do have moments to yourself, your mind may turn to how you will possibly feel your best as you attend holiday gatherings and smile for photo ops with friends and family. We have a suggestion that may help you: visit our medspa near Baltimore for a pre-holiday lift. The Silhouette InstaLift is a short office procedure with a long list of benefits.  
The Silhouette InstaLift offers Immediately Satisfying Results
A surgical facelift can be beneficial when you've got time to recover from your procedure. When time is of the essence, though, the Silhouette InstaLift is an excellent option for facial rejuvenation. The placement of dissolvable sutures in the dermal tissue beneath the skin instantly refines the contours of the face to look younger. This is possible because the sutures are made with tiny, bi-directional cones that grab onto tissue to hold it in place.
The InstaLift Stimulates Ongoing Collagen Regeneration
One of the significant details about the Silhouette InstaLift is that this technique affects the appearance of the face in two ways. In addition to immediately lifting and holding tissue in a tighter, younger-looking position, the dissolvable sutures also stimulate an immune response in which collagen production increases for several months. The inflow of healthy new collagen into the face supports the rebuilding of firmer, more supple skin. Patients enjoy results that last one year or longer.
No Downtime Needed
Perhaps one of the most prominent reasons why InstaLift treatment may be the best holiday gift you can give yourself is that no downtime is needed to recover from the procedure. Most InstaLift treatments are complete within an hour and most patients can get right back to their busy schedule. Mild bruising and swelling may occur but these temporary side effects are typically much more noticeable to the patient than to others.
At the Center for Cosmetic Surgery and Medspa near Baltimore, we combine Silhouette InstaLift with ThermiTight to maximize tissue contraction and lasting results. Schedule your pre-holiday facial rejuvenation treatment at 410-602-3322.