Spring is coming upon us faster than the first flowers are blooming –the official start of the season is next week, though the weather is already warming. It won't be long before you're looking for ways to cool down and beat the heat. As the temperatures rise, hemlines will do the same, and there won't be any hiding under bulky winter clothes anymore. It's not hard to put on weight during the winter, between the holidays and the desire to hibernate under our covers to escape the chill.
Maryland Board Certified Plastic Surgeon Dr. Dean Kane can help you to melt away fat in unwanted areas of your body – in a completely non-invasive way. This revolutionary treatment is called CoolSculpting®.
So, what's COOL about CoolSculpting®?
CoolSculpting® is a unique way to permanently freeze away your unwanted fat bulges – without surgery. This means that little to no downtime is needed to recover from this fat-blasting treatment.  CoolSculpting® is ideal to reduce unwanted bulges of fat on the muffin top, upper and lower abdomen, love handles, breast rolls, arms, inner thighs, and the banana roll below the buttocks. While CoolSculpting® can be compared to Liposuction in which fat cells are destroyed; they differ because CoolSculpting® uses a NON- Surgical freezing process. Even overweight individuals are candidates for CoolSculpting® by applying the applicators in an overlapping technique; we call this treat to transformation.
The process works by eliminating the fat cells targeted with the wand – this means that so long as you maintain normal diet and exercise, your results will remain the same over time. What's more, you'll see the fat dissolving before your eyes in as little as four weeks, with the most dramatic results occurring four to six months after the treatment.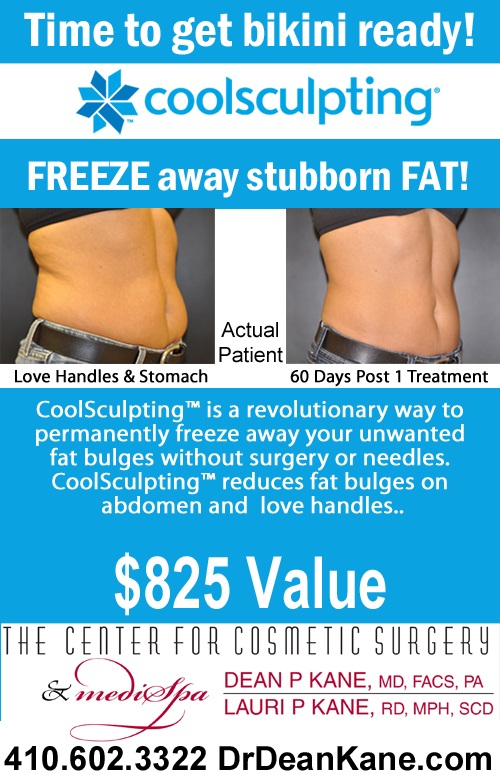 At the Center for Cosmetic Surgery and Medispa, we can consult with you to determine if CoolSculpting® is an appropriate method of fat removal for you – and provide you with treatments to help you reach your ideal look for the warm weather. Want to learn more? Attend Dr. Dean Kane's Spring Seminar April 4th from 12:30 to 2:00 in his office and see a live demonstration of CoolSculpting®.
Breaking a sweat in excitement over CoolSculpting
®
? We don't blame you. That's why we're running a contest on Facebook giving away one FREE CoolScuplting Treatment and Consultation – a total value of $850!