When it comes to aging, everyone wants to turn back the clock to skin which is firmer, fuller and smoother. Thanks to the injectable wonder of Sculptra, it is possible to turn rejuvenate your inner youth. Sculptra is an injectable filler that stimulates growth of your own natural collagen from the "inside". Yes, this is its secret for naturally staying young.
Collagen is a protein which acts as the supportive and  retaining structure for your skin.  A boost of collagen production in your face will help provide the return of skin thickening, firming and  the shape you are longing for.  Collagen is produced or broken down in the body constantly. In other words, it is dynamic and must be continually stimulated or it goes away with aging and sun-damage.  Prior technologies have focused on stimulation of skin rejuvenation from the outside. This means passing the epidermal layers of the skin to the dermis where collagen, the foundation of skin firmness and elasticity resides.  Collagen stimulation from the "outside" is limited and must be repeated very often such as with the use of weekly Retin-A in the ZO Skin Health regimen. The healing phases of surgery provide for inner collagen stimulation to the under surface of the dermis and when necessary, surgery is an option. Today, we have a minimally invasive option of injecting a "inner" collagen stimulant under the dermis to provide a continuous stimulation of collagen production for 2 years and longer.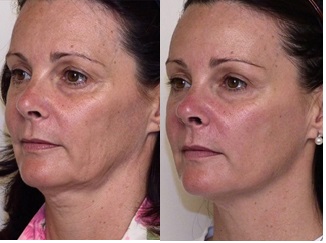 Sculptra is different from any other injectable filler because it will help replace the collagen that was lost during the aging process. A traditional gel filler, such as Restylane, Perlane or Juvederm will add volume and minimally prompt collagen formation enough to smooth out wrinkles in the skin during a 3 month period and maintain volume for 6-12 months.  Sculptra does more, it reverses the aging dermis by gently and continuously triggering collagen production for a longer period, firming and thickening the skin. (It does not add volume per se.) Over the course of two years, Sculptra will stimulate collagen growth in your face, virtually reversing the aging process. So while all of your friends are aging, your skin is turning back the clock on the process. Sculptra is ideal for women and men over the age of thirty with any type of skin color or texture. It is ideal for a patient who is unhappy with the aging process but may not be ready for a facelift.  It is also found to subtly and continuously firm, fill and shape areas of volume atrophy such as the temples and upper cheeks. To learn more about Sculptra in Baltimore, contact the Center for Cosmetic Surgery & Medspa. Call us at 410.602.3322 or 
request an appointment
online with Dr. Dean Kane. He and Lauri Kane look forward to welcoming you to their office on Reservoir Circle in Baltimore, serving Delaware, the Eastern Shore and southern Pennsylvania as well as Maryland communities like Annapolis.
About Dr. Dean Kane& the
Center for Cosmetic Surgery & Medspa
Dean Kane, MD and the rest of us at the Center for Cosmetic Surgery & Medspa are dedicated to providing the highest level of quality cosmetic treatments and plastic surgery. Dr. Dean Kane is highly trained and has years of experience achieving exquisite results for his patients.
Your health, wellness, satisfaction, and safety are our top priorities!
To learn more about what we do, please visit our website or call 410-602-3322. Also, be sure to check our 
Facebook 
page periodically for new next monthly contests and follow us on 
Twitter
.