Achieving the perfect body and face has never been easier; Sculptra and CoolSculpting are two services that Dr. Dean Kane offers, when combined they can turn back the clock on your aging skin and help you look and feel your best.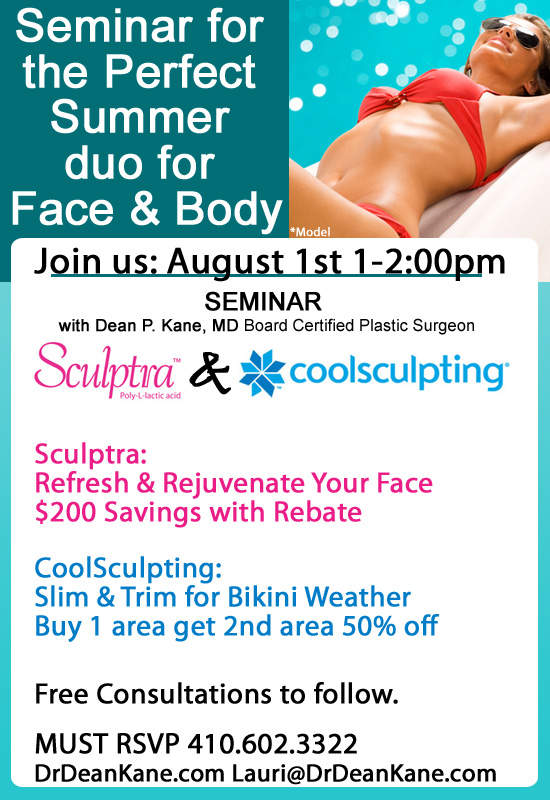 Sculptra works as an anti-aging tool by stimulating collagen growth in your face over the course of two years. This can restore a more youthful look in your face over time as your collagen continues to replenish the lost volume. The results are much smoother skin and a decrease of facial wrinkles and folds. Sculptra ideally volumizes the entire face from the forehead down to the jowl, giving the entire face a naturally refreshed appearance. Sculptra specifically helps the deep folds between the nose and the mouth (smile lines), lines framing your mouth (marionette lines),jowls, and other facial wrinkles. Sculptra is different from other fillers because it works naturally to replenish the lost volume. CoolSculpting will transform your body into the one you have always dreamed of having. CoolSculpting targets the fat areas that are difficult to trim away; it is the non-surgical way of re-shaping your body by freezing away stubborn fat. When combined with proper diet and exercise, CoolSculpting will rapidly burn away the fat you have been trying to get rid of for years, especially in those stubborn areas. With CoolSculpting, you will be able to feel comfortable in your own body again, naturally. We want you to look and feel your best this summer, pairing Sculptra and CoolSculpting is one way to rejuvenate your face and body at the same time without surgery.  Dr. Dean Kane's Center for Cosmetic Surgery & Medspa can help you do just that. On Thursday, August 1
st
, at 1:00 pm, Dr. Dean Kane is offering a FREE seminar about Sculptra and CoolSculpting. To attend, you must RSVP either to 
410.602.3322
 or by emailing 
Lauri@DrDeanKane.com
After the seminar, there will be a FREE consultation. With the purchase of one CoolSculpting treatment, you get 50% off a second area. Additionally Sculptra comes with a $200 savings rebate.
About Dr. Dean Kane & the
Center for Cosmetic Surgery & Medspa
Dean Kane, MD and the rest of us at the Center for Cosmetic Surgery & Medspa are dedicated to providing the highest level of quality cosmetic treatments and plastic surgery. Dr. Dean Kane is highly trained and has over 26 years of experience achieving exquisite results for his patients.
Your health, wellness, satisfaction, and safety are our top priorities!
To learn more about what we do, please visit our website or call 
410-602-3322
. Also be sure to check our 
Facebook 
page periodically for new next monthly contests and follow us on 
Twitter
. Sources:
http://www.sculptraaesthetic.com/consumer/about-sculptra-aesthetic.aspx
http://www.coolsculpting.com/#sthash.3cuyZmNS.dpbs