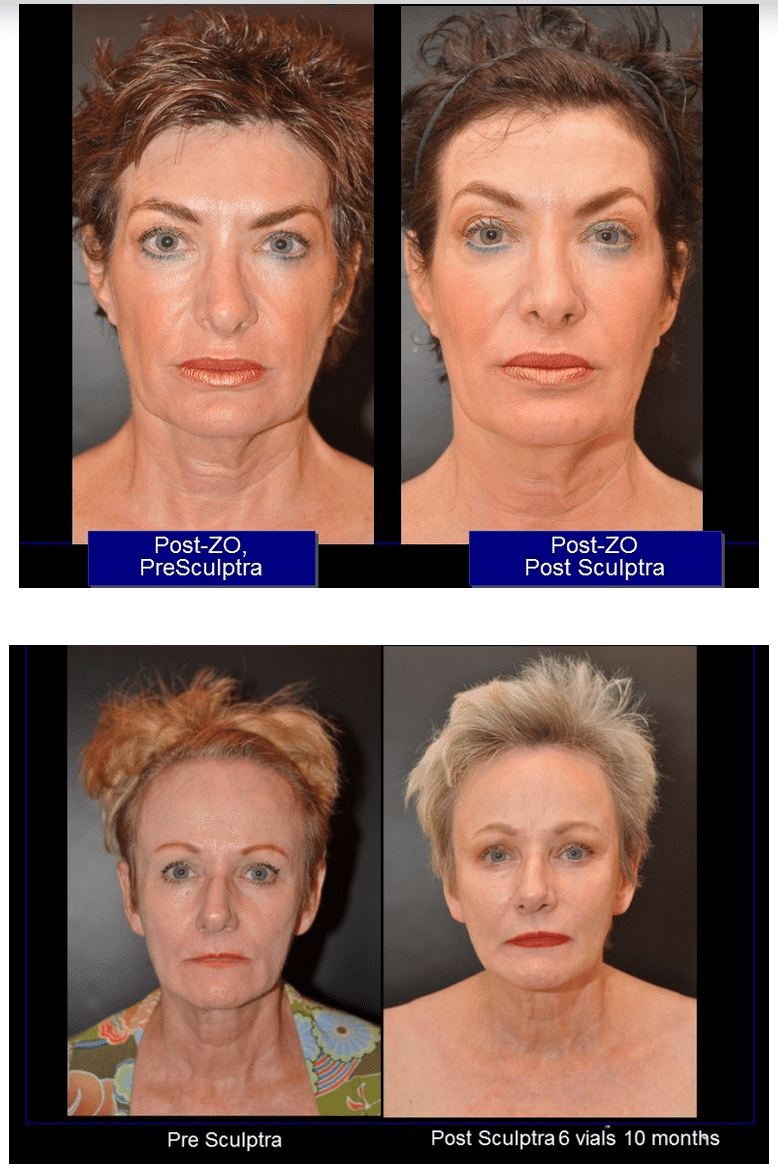 Our two favorite procedures for skin tightening and firming are Sculptra and ClearLift Laser.
ClearLift and Sculptra are a great synergy team for tightening and firming of the facial skin.  ClearLift Laser stimulates your collagen through a laser process and Sculptra provides more direct stimulation being injected throughout the face.  We are seeing fabulous thickening, tightening and firming of the skin with Sculptra or ClearLift Laser.
We love both of these procedures for stimulating your collagen and elastin in different ways. We believe that that both procedures done alternately provides a synergistic effect enhancing each other's ability to increase your skin's youthful skin properties, providing tightening, firming and smoothing of the skin.
When first using Sculptra the ideal approach is to do 2 sessions of Sculptra (with 2 vials per session) done 6 weeks apart. The first session lays down the foundation and the second session gives the added boost to the first session. We then recommend a yearly session of Sculptra that continues to boost your stimulation of your collagen and elastin. This approach not only stops the decline of your collagen and elastin over time, but maintains and stimulates your skin to stop and reverse the aging of your skin from year to year.
ClearLift Laser works very differently by using a combination of laser energy frequencies to stimulate your collagen and elastin. We have found that when you do Sculptra first and 3 weeks later do a ClearLIft session that the combination enhance each other's ability to stimulate your collagen and elastin. This is repeated again after the second session of Sculptra. If ClearLift is being done alone a minimum of 5 sessions are recommended done 3-4 weeks apart.
The cost of Sculptra is $1600 per session for 2 vials of the Sculptra. The cost of the ClearLift per treatment is $650.   When we combine as a package we offer a $150 discount on the ClearLift sessions which would bring this down to $500.  If ClearLift is done alone, we offer a package pricing for the 5 treatments for $3000.
See our fantastic Sculptra results: https://drdeankane.com/galleries/sculptra
Call us at (410) 602-3322 to schedule an appointment or email Lauri@DrDeanKane.com to ask her any questions you may have about either of these procedures.
This information is not meant as medical advice. It is provided solely for education. Our practice would be pleased to discuss your unique circumstances and needs as they relate to these topics.
We're located on Reservoir Circle just a block off the Baltimore beltway, convenient to greater Baltimore, Annapolis, the Eastern Shore, Southern Pennsylvania, Delaware and Carroll County.