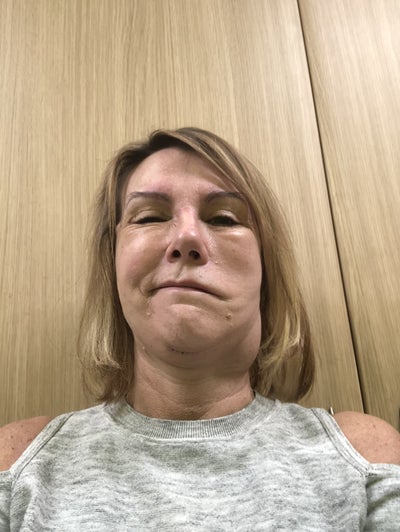 Q. Had facelift on 21st December had a seroma on my left side of neck. Is this normal? Apparently my saliva gland was reacting to the surgery and was over working so had to have this drained up until 31st December. Had to go back in to have middle suture removed to ease the paralysis about two weeks post op. I'm now 19 days post op but my face seems to be dropping more and speech getting harder.
A. Thank you for sharing your photos. They are helpful. The progressive facial asymmetry and droop are not normal.  I do not wish to be an alarmist but you need immediate evaluation to see what is going on with your facial laxity. Seek help from your surgeon, neurologist and / or Emergency Department.
The first 2 photos appear like a well done face and lower eyelid lift. In the 3rd photo, there is weakness along the lateral lip.  Subsequent pictures show further weakness on your left face. You also mention difficulty with speech. 
If the timing sequence is correct, there has been a facial palsy or progressive weakness from a stroke which appears to have occurred following your facial surgery.  I do not visualize the seroma or parotid concerns you raise. You do mention a paralysis and this appears from your lower eyelid to the chin. 
I certainly wish for your full recovery and hope you will seek attention as soon as possible!
Read more about similar topics:
This information is not meant as medical advice. It is provided solely for education. Our practice would be pleased to discuss your unique circumstances and needs as they relate to these topics.
Give us a call at  410.602.3322  or email Lauri@DrDeanKane.com and make an appointment soon. We're located on Reservoir Circle just a block off the Baltimore beltway, convenient to greater Baltimore, Annapolis, the Eastern Shore, Southern Pennsylvania, Delaware and Carroll County.