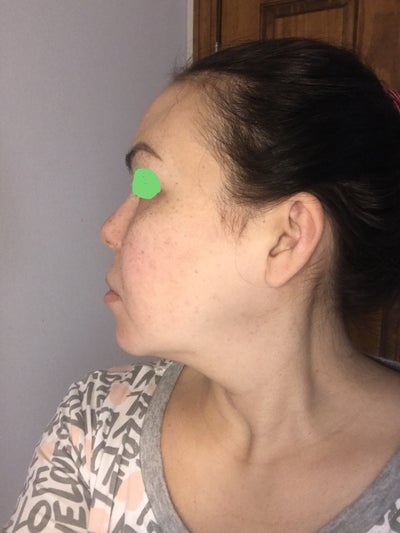 Q. Would a Silhouette lift define my jaw line and what upper lip treatments will fiix my flat lip? 36yo, would like to define jaw line and "curl" upper lip. Will Silhouette lift help with jaw line definition? Will I feel stitches under my face all the time? Can I do face laser treatment ( Fraxel), while having these threads? Upper lip is flat, i'd Like a curl, I am not looking for the lip to be fuller, I think it is full enough. Any non-surgical treatment that can create good lip profile? Thank you!!
A. The beginnings of facial skin laxity start when skin repair diminishes and passive skin aging relaxes downward. The web of fibrous compartments under the skin loses fat, stretches and elongates developing 5 growing "waves" of skin at points of attachment such as the:
hooding along the eyes,
lower eyelid / cheek junction or tear trough / nasojugal fold
nasolabial fold,
lateral mouth commissure and marionette folds,
jowls and neck.
Thank you for sharing your photos. They are helpful. From your inquiry and your photos, I see the beginnings of facial skin laxity, folds, sun damage, loss of volume in the cheeks and lips.
Since I do not have the advantage to examine you, I hope you will be helped by the information below. My immediate recommendations are to obtain:
Consultation with a talented, Board Certified Plastic Surgeon with extensive skills in:
Non-surgical skin tightening using Obagi ZO Skin Health Rx regimen and chemical peels to even your skin tone and pigmentation
A Silhouette InstaLift (SIL) is the use of collagen stimulating suspension sutures for a minimally invasive lift of the jowls, marionette/nasolabial folds, cheeks and brows
When combined with micro-lipocontouring, the fat can be fat grafted to the cheeks and lips and further the stimulation of collagen formation and tightening . This can be a consideration for you and no, you should not feel the Silhouette sutures if properly placed; they will also dissolve.
ThermiTight may also initially contract the skin and secondarily induce collagen tightening and with the micro-lipocontouring define the neck, jawline, jowl and sub-malar cheek
Consider Sculptra, a injectable bio-stimulatory collagen inducing "filler" which is what the SIL is made of for the longer term every 6-12 months. 
You can consider laser like "fraxel" but without proper skin preparation using ZO, you have a higher risk of pigmentation. So consider laser following skin preparation with a ZO team. 
Minute amounts of Botox / Dysport around the lips may help in "curling" the lips without filling with fat or hyaluronic acid filler. 
You should consider a plan which provides for you the goals and duration of results you are searching for. 
Read more about similar topics:
This information is not meant as medical advice. It is provided solely for education. Our practice would be pleased to discuss your unique circumstances and needs as they relate to these topics.
Give us a call at  410.602.3322  or email Lauri@DrDeanKane.com and make an appointment soon. We're located on Reservoir Circle just a block off the Baltimore beltway, convenient to greater Baltimore, Annapolis, the Eastern Shore, Southern Pennsylvania, Delaware and Carroll County.