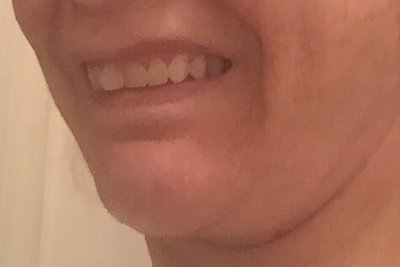 Q. Can I get my smile back after nerve cut or damaged?  Full facelift, neck life, & lips/jowl areas, neck lump? Done mid July. Pics: trying to bare my teeth-impossible to bare bottom ones, showing how my bottom lip covers bottom teeth resulting in an overbite, soft lump drooping next to hard lump on neck. My p.s.used Botox to help. Before Botox 1 side of smile drooped dramatically & was extremely unattractive. I feel I need to see a neurologist speech no longer clear-always have to repeat trouble eating, soft droopy lump next to deeper hard lump on neck. 
A. So sorry for your troubles! Thanks for sharing your photos. It is very helpful.
Most cases of facial weakness following facelift are due to bruising and / or swelling around the nerves to the lower lip, some in the cheek and few to the forehead. The majority will heal and return fully within a year. You should be visualizing return of your lip function at about 6 to 12 weeks and be assured it will function properly. The caveat is that this is also a good time to assess the integrity of the nerve using a EMG / NCS (electromyography and nerve conduction study) to make sure the nerve is not divided; as the sooner the cut nerve is put back together, the faster the recovery.
Please discuss this with your operating surgeon to obtain your best outcome. Generally, it is a neurologist or physiatrist that perform this test.
You may also be helped with exercises, physical therapy and TENS stimulation of the muscles which are weak.
It appears as though your Plastic Surgeon provided an interim benefit for you in using Botox properly to even out the opposite lower lip pull.
I hope this is helpful and you are back to normal soon.
Read more about similar topics:
Plastic Surgeon Dr. Dean Kane of Baltimore Answers Question Regarding Nerve Paralysis after a Facelift
This information is not meant as medical advice. It is provided solely for education. Our practice would be pleased to discuss your unique circumstances and needs as they relate to these topics.
Give us a call at  410.602.3322  or email Lauri@DrDeanKane.com and make an appointment soon. We're located on Reservoir Circle just a block off the Baltimore beltway, convenient to greater Baltimore, Annapolis, the Eastern Shore, Southern Pennsylvania, Delaware and Frederick.