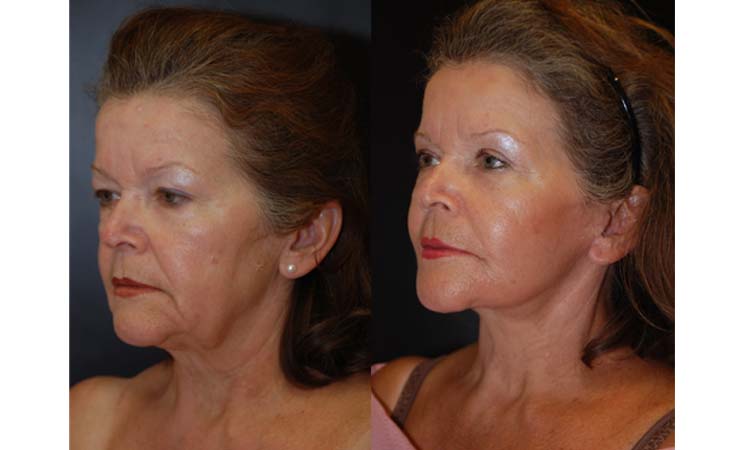 Q. Is it safe to have face/neck lift if a person has had several strokes? Have had 4 strokes in a 5 yr period Had surgery on artery in neck Age: 66 Would there be a major risk?
A. Every patient is unique and provides a different set of factors regarding the risk/benefit of elective cosmetic surgery and procedures, so let's look at this objectively.
Following a stroke affecting the face and neck, the motor tone is lost in one or more muscles creating a asymmetry as well as greater sagging in the tissue affected. This is a perfect option to assist the patient using a static lift provided by a face and neck lift.
A stroke is generally separated into various types:
Hemorrhagic, from a burst artery or vein and generally stable following treatment of the causative factor such as an aneurysm or high blood pressure.
Atherogenic,  or weakening of the arteries and cholesterol build-up. This type of affects all the arteries of the body, reducing blood flow to the tissues of the face and neck, as well as your organs, trunk and extremities; also called peripheral vascular disease(PVD). PVD may require further work-up to exclude additional risks of the heart and kidneys and extremities prior to considering a cosmetic procedure as well.
Embolic or formation of clots which block arterial blood vessels typical of atrial fibrillation.  
Many patients following stroke will require blood thinners of various types. The will cause various levels of bleeding risk for the patient when operated on.
Select a Board Certified Plastic Surgeon to evaluate your needs and review your Medical History to determine what non-invasive, minimally invasive and surgical options suit your needs. He/she and your Primary Care Physician and specialists will determine how to optimize your health to reduce your risks of vascular complications including tissue ischemia and necrosis of the face and neck lift. If the risk of incisional, flap surgery are too great, other options exist such as:
Silhouette InstaLift, a minimally invasive suture suspension of the tissues
ThermiTIGHT,  a minimally invasive skin tightening technique
Sculptra, a injectable option of skin tightening, and
Obagi, ZO Skin Health retinoid skin tightening.
Given the complexity of such medical decision making, Consult with a Board Certified Plastic Surgeon who has your best interests at heart and review the risk values with your Primary Care Physician to determine which of many alternatives is best for you. I wish you all the best!
Read more about similar topics:
Face Options for a Long Lasting, Natural and Youthful Appearance
This information is not meant as medical advice. It is provided solely for education. Our practice would be pleased to discuss your unique circumstances and needs as they relate to these topics.
Give us a call at  410.602.3322  or email Lauri@DrDeanKane.com and make an appointment soon. We're located on Reservoir Circle just a block off the Baltimore beltway, convenient to greater Baltimore, Annapolis, the Eastern Shore, Southern Pennsylvania, Delaware and Carroll County.