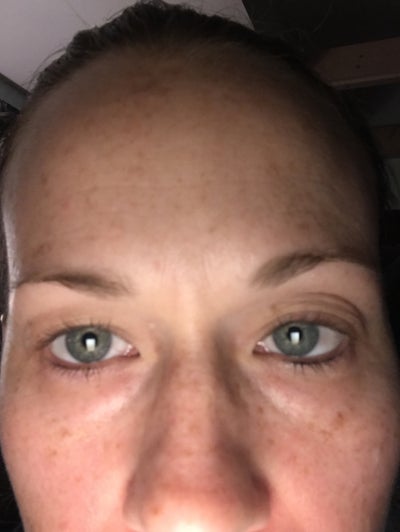 Q. How many syringes of derma filler to correct my eye bags ? Which filler is best for this issue? My goal is to eliminate the bags under my eyes without surgery as I'm only 38. I have never done any type of filler or Botox.
A. Thanks for sharing your photos. Injectables are advanced techniques, especially when performed deeper under the skin. Your injector must know, be skilled and have the artistic understanding to use fillers in the fat compartments, over and under muscle layers. 
Fillers do not remove bags but build up the tissues around the fat bag to hide them. Only surgery will remove the fat bags and reposition the eyelid skin and muscle layers in a uplifted fashion.
Please use only one cc of filler with cannula technique to reduce bruising and swelling (although not guaranteed), allowing the filler to set. Return 2 or more weeks later to further fill as needed. Know that the underlying tissues are irregular and you will feel such lumpiness until the filler integrates with the tissues. Your skin should be smooth. 
Caveat 1: if your injector does not know the difference in eyelid vs cheek compartment, don't use him/her for this procedure as injecting the wrong area and depth can exacerbate the "fat bags" you are trying to camouflage. 
Caveat 2: Discuss the differences in fillers with your injector and which is best for you. Each has different properties for volume, projection, and water attraction. 
Caveat 3: if you have a "side-bag" called a festoon, hyaluronic acid fillers which are hydrophilic or attract water may make them worse. 
Consider skin tightening with Obagi ZO Skin Health. 
Find a highly reputable, Board Certified Plastic Surgeon with great skills and talent for this seemingly simple but difficult procedure. I wish you the best!
Read more about similar topics:
This information is not meant as medical advice. It is provided solely for education. Our practice would be pleased to discuss your unique circumstances and needs as they relate to these topics.
Give us a call at  410.602.3322  or email Lauri@DrDeanKane.com and make an appointment soon. We're located on Reservoir Circle just a block off the Baltimore beltway, convenient to greater Baltimore, Annapolis, the Eastern Shore, Southern Pennsylvania, Delaware and Carroll County.