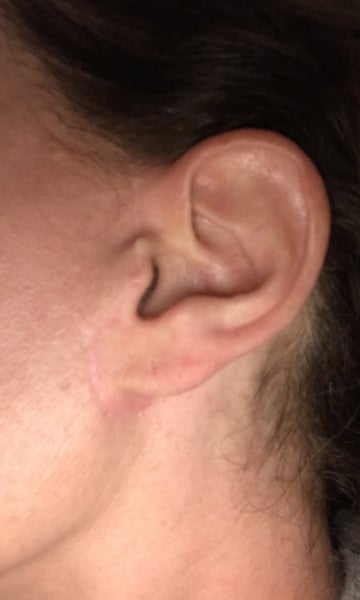 Q. Bizarre placement of facelift scars from surgery 6 months ago?  With my hair down I am pleased with the natural results… with my hair back my scars are anything but natural. My surgery was around 18,000 – I do have a follow up with my board certified ps. But I am panicked. The Targum scar is great…. why would he then place the other scar way out into my face. I would love an objective opinion: 1. Why would a surgeon chose not to use the natural crease? 2. Is there a way to fix this?!?!? 3. Are the lobes appearing like pixie ears?!?
A. Thanks for your concerns and sharing your photos. I pick up on your pleasure with the face and neck lift results other than the non-tragal scars.
It would be most helpful to review the before, skin-line pre-op photos and most immediate post-op photos to determine:
Natural creases
Skin laxity
Placement of the scars
Post-operative tightness
Scar migration and widening and
Other helpful insights to your dilemma.
My initial impression is that if you are happy with your "natural" results and if the surgeon is Board Certified in Plastic Surgery or Facial ENT Surgery, that he / she would have selected the best incision options for your optimal result.
There are many options to improve the scars to be discussed with your Plastic Surgery Team. These include:
Retinoids and hydroquinones. We use the ZO Skin Health rejuvenation techniques developed by Zein Obagi, MD located in Beverly Hills.
IPL and Pixel / Fraxel laser
Scar revision / earlobe repositioning
Please review with your Surgeon. I hope this has been helpful! All the best!
Read more about similar topics:
This information is not meant as medical advice. It is provided solely for education. Our practice would be pleased to discuss your unique circumstances and needs as they relate to these topics.
Give us a call at  410.602.3322  or email Lauri@DrDeanKane.com and make an appointment soon. We're located on Reservoir Circle just a block off the Baltimore beltway, convenient to greater Baltimore, Annapolis, the Eastern Shore, Southern Pennsylvania, Delaware and Carroll County.