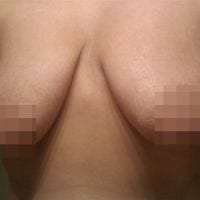 Q. Should I just get a breast lift, or do I need an augmentation too? I think that I could possibly be mixing up what each of these procedures do. I am 42 and my breasts have lost a lot of their perkiness over the years. I think I just need a lift but what are the reason I would get an augmentation too?
A.  This is a most confusing and difficult question for many women. Thanks for asking it!
There are several issues to consider:
If you are pleased with your breast size when you cup your hands around your breasts and push then into lifted perky position, you will be happy with a mastopexy (breast lift) only. Since your breasts are slightly different, a small reduction on one side will create better symmetry too.
If you are unhappy with breast size, then you will wish a augmentation as well.
A breast lift removes skin in order to reposition and "tighten-up", ie. make the breasts perky. This is opposite to the stress placed on the skin and breast tissues with augmentation which enlarges and "pushes-out" the incisions and tissues.
The Plastic Surgery literature and my experience finds added risk of skin separation, infection and loss of the implants when a traditional mastopexy is combined with breast augmentation. Yes, I am more conservative and others will take on this risk but ultimately you are the patient with the additional complication if it occurs.
You can always start with a breast lift (my recommendation based only on the one photo you have kindly shared) and once healed consider:

Breast implant augmentation
Fat grafting augmentation with the advantage of slimming elsewhere if you desire it.
Read more about similar topics:
Breast Lift and Breast Augmentation
This information is not meant as medical advice. It is provided solely for education. Our practice would be pleased to discuss your unique circumstances and needs as they relate to these topics.
Give us a call at  410.602.3322  or email Lauri@DrDeanKane.com and make an appointment soon. We're located on Reservoir Circle just a block off the Baltimore beltway, convenient to greater Baltimore, Annapolis, the Eastern Shore, Southern Pennsylvania, Delaware and Frederick.