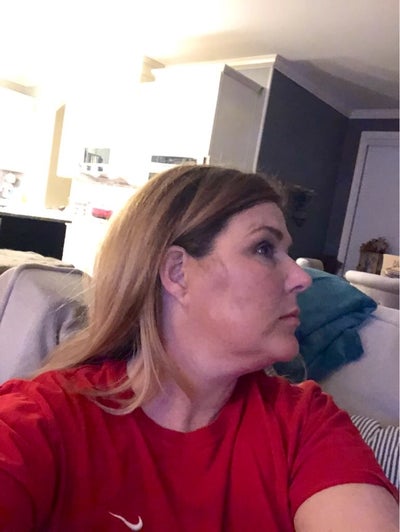 Q. Age 46, what procedures do I need after weight loss? I unfortunately gained 100 pounds in a year due to Polycystic ovary disease. This was traumatic. Luckily with proper medications came weight loss. I lost 50 pounds right away, and still am easily losing. I am very interested in beginning cosmetic correction. I am no expert, so I can only speculate as to what I need. At 46, I think a facelift may be in order to lift sagging jowels, and cheeks? My chin and neck obviously need lipo, and possibly an eye lift. please advise. Body comes next.
A. Thank you for sharing your photos and congratulations on your weight loss!
Since I do not have the advantage to examine you, I hope you will be helped by the information below. My immediate recommendations are to obtain:
consultation with a talented, Board Certified Plastic Surgeon with extensive skills in:
non-surgical skin tightening using Obagi ZO Skin Health Rx regimen and chemical peels
non-invasive CoolSculpting of the neck, jowls and jawline
minimally invasive injectables including fillers and / or fat 
Minimally invasive Silhouette Suture Suspension of soft tissues and skin
Minimally invasive ThermiTIGHT to tighten the face and neck 
Upon optimal and stable weight loss to consider a surgical face and neck lift. 
The beginnings of facial skin laxity start when skin repair diminishes and passive skin aging relaxes downward. The web of fibrous compartments under the skin loses fat, stretches and elongates developing 5 growing "waves" of skin at points of attachment such as the:
hooding along the eyes,
lower eyelid / cheek junction or tear trough / nasojugal fold
nasolabial fold,
lateral mouth commissure and marionette folds,
jowls and neck.
The skin itself is not dissimilar to crepe paper held together by collagen, elastin and other structural molecules which also passively diminish with aging.
Facial Aging are created from the 5 different layers of the skin, fat, muscle and bone. During the first 20 years or so of life, the body genetically determines how to develop and repair a constantly changing "face" including all these layers (as it does elsewhere in the body). Thereafter it remains robust in repairing itself from injury but the accumulation of environmental, health, weight loss, peri-menopause and nutritional exposure will add to the passive inability for the body to care for itself after 30. This is when physical changes such as skin laxity, irregular pigmentation, lines and wrinkles and skin diseases occur. We now have many options to rejuvenate the layer or layers of the face which need care or stimulation to reverse the aging trend.
 So, it is important to understand there are 2 layers of the face and neck to rejuvenate; the laxed visible skin AND the sagging soft tissues under the skin. The following is a review of the current options available. 
The top layer or stratum corneum of the epidermis is the rough, pigmented layer of the skin; creating most of the depth of the wrinkle. 
Exfoliation is best for this using: 
microdermabrasion, 
Retin-A (ZO Obagi Skin Health System), which also renews and regulates improved function of the deeper epidermis, 
Some lasers and chemical peels. 
2.The second layer is the dermis which thins with aging. The natural collagen, elastin and hyaluronic acid (which hydrate and toughen the skin) are thickened by the use of: 
fillers (Restylane and Juvederm), or 
Retinoids (ZO Obagi Skin Health System), which also renews and regulates improved function of the deeper dermal skin cells. 
Sculptra properly managed is the latest sensation in stimulating firming and thickening of the dermis 
PRP (platelet rich plasma) and micro-needling is a promising new technique for dermal firming and dermal/epidermal rejuvenation .         
ThermiSMOOTH for non-surgical controlled heat skin tightening, or ThermiTIGHT for minimally invasive, dermal skin tightening. 
.         Chemical Peels and laser tightening are single, "static" attempts to "jump start" the repair system into forming collagen. They should be performed every 3 months in order to achieve a more dynamic stimulation of the immune system collagen production.
The next layer or fat also thins or droops with age and maybe: 
filled (Restylane and Juvederm), fat grafting or 
redraped (Silhouette InstaLift Suture Suspension, short-scar, traditional, endoscopic face / neck / brow lifts / cheek) 
4.The muscle which creases the skin into wrinkles and folds is weakened and rebalanced with    
Botox or similar injectable muscle relaxers like Dysport or Xeomin. 
5.Bone also undergoes a dynamic process of resorption, thinning and descent. Options for cosmetic enhancements include: 
implants
structural fillers, particularly like Radiesse (bone mineral) 
volumizing gel fillers like Juvederm and Restylane 
6.Facelift, necklift and forehead lift are surgical procedures which include: 
an incision along the periphery of the tissues 
a suspension or re-positioning of the underlying soft tissues, and 
a redraping of the skin with removal of skin excess. 
A sub-group to the facelift is the mid-face lift. This is used to detach the soft-tissues of the cheek which have descended, separated and lost volume and suspend them to the lower orbital rim. Generally, the fat pockets under the eyes are trimmed or added to the volume of the cheek and the eyelid skin is redraped. 
Don't forget to protect your skin from the elements! UV blockers, anti-oxidants, pigmentation control and acne / oil reduction will maintain your skin rejuvenation efforts. Consult with a Certified ZO Skin Health Specialist! 
Everyone needs one or more layered improvement and in personalized combinations to achieve their optimal result. All surgical, minimally invasive and non-invasive procedures and their combinations should be discussed following a proper examination with a well versed, Board Certified Plastic Surgeon who performs all of these options so you will not receive a biased approach because he limited in his skills.
Read more about similar topics:
This information is not meant as medical advice. It is provided solely for education. Our practice would be pleased to discuss your unique circumstances and needs as they relate to these topics.
Give us a call at  410.602.3322  or email Lauri@DrDeanKane.com and make an appointment soon. We're located on Reservoir Circle just a block off the Baltimore beltway, convenient to greater Baltimore, Annapolis, the Eastern Shore, Southern Pennsylvania, Delaware and Carroll County.