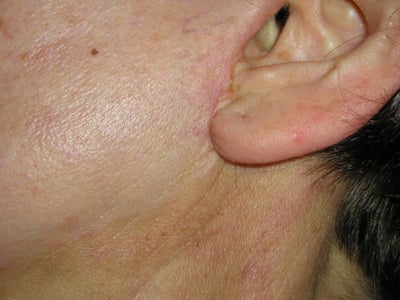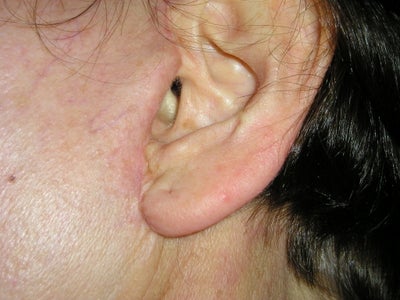 Q. Can my earlobe be fixed? I had a mini facelift 7 weeks ago. The skin between the stitches was raised up and the bottom of the earlobe was stitched tight and now the skin is puckered.
A. Any bodily injury including full or mini-facelift take an orderly progression of healing including:
Sealing blood vessels (1 day)
Mitigation of swelling and bruising (3+ weeks)
Collagen or scar formation (12+ weeks)
Remodeling of scar from an irregular, tightening, jumble to a soft, thin and supple adherence of tissue (6 to 12 months or more)
At 7 weeks, the scars joining your earlobe to the facelift incision are thickened, contracting and appear irregular. Since there is no real way to hasten the process and your (limited) photos show a terrific early result, please be patient for your final outcome. At that time you may discuss improvement options with your surgeon if necessary. In the meantime, use cosmetics to camouflage any concerns.
I hope you have found this helpful. All the best!
Read more about similar topics:
This information is not meant as medical advice. It is provided solely for education. Our practice would be pleased to discuss your unique circumstances and needs as they relate to these topics.
Give us a call at  410.602.3322  or email Lauri@DrDeanKane.com and make an appointment soon. We're located on Reservoir Circle just a block off the Baltimore beltway, convenient to greater Baltimore, Annapolis, the Eastern Shore, Southern Pennsylvania, Delaware and Frederick.