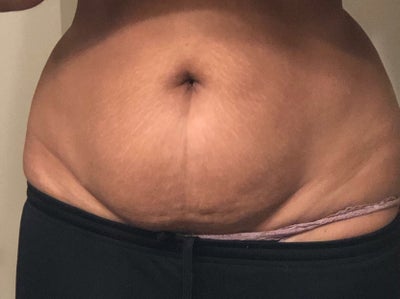 Q. Would a non invasive method like CoolSculpting work for me? 53 years old and finally ready to do something permanent about my stubborn belly and back fat. I am anxious about more invasive methods but not sure if that's the only way to get noticeable results.
A. Thanks for sharing your photos. CoolSculpting really works but it is limited. It can be very motivational for continued weight loss. You can always re-treat an area to double up the "up-to" 25% fat loss under each applicator. Since it is non-invasive and relatively free of pain, many patients choose this route.
Another options to consider based on a proper examination is surgical liposuction for a fuller 80 or 90% fat reduction and contouring a greater amount of the trunk. This will take less time for a greater result but is invasive and there will be at least a week of down time. I am unable to evaluate your visceral vs subcutaneous fat which will help determine your best option. 
Consult with a well experienced Board Certified Plastic Surgeon with Certified CoolSculpting Team to determine what is best for you.
---
Read more about similar topics:
This information is not meant as medical advice. It is provided solely for education. Our practice would be pleased to discuss your unique circumstances and needs as they relate to these topics.
Give us a call at  410.602.3322  or email Lauri@DrDeanKane.com and make an appointment soon. We're located on Reservoir Circle just a block off the Baltimore beltway, convenient to greater Baltimore, Annapolis, the Eastern Shore, Southern Pennsylvania, Delaware and Carroll County.