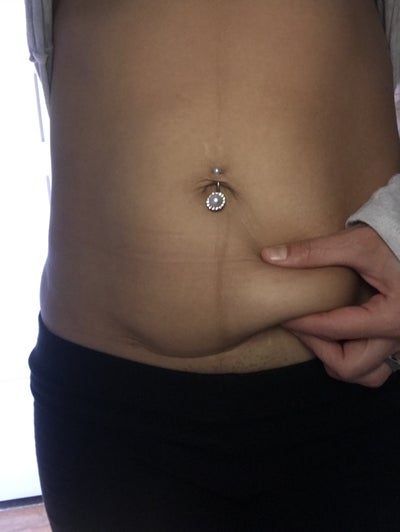 Q. Should I consider have CoolSculpting done for c-section pooch? Is CoolSculpting a good non invasive alternative for me? I am considering have CoolSculpting done in my after c section pooch. It's been 10 months since my last c sections, I eat healthy and i workout but nothing seems get my flat tummy again! I am 5'2 and 103lb, 35 years old and 2 c sections. I visit 2 med, one of the told me I don't need tummy tuck bc is a very small area, and other suggested laser lipo (but I can't afford it it was like 8 thousand). So heard about CoolSculpting and also seems more affordable, but does it work?
A. Thanks for sharing your photos. They are helpful. 
I would anticipate the little roll between your fingers would respond well to CoolSculpting if your expectations are right. Those expectations would be:
to flatten the fat content in between your fingers
possibly have the skin contract (not tighten)
Other options beyond liposuction include: 
ThermiTIGHT to tighten the skin and
a mini-tummy tuck to remove the skin excess.
Based on your photo appearance, you look terrific. Try the CS first, then when you are ready go for more.
---
Read more about similar topics:
This information is not meant as medical advice. It is provided solely for education. Our practice would be pleased to discuss your unique circumstances and needs as they relate to these topics.
Give us a call at  410.602.3322  or email Lauri@DrDeanKane.com and make an appointment soon. We're located on Reservoir Circle just a block off the Baltimore beltway, convenient to greater Baltimore, Annapolis, the Eastern Shore, Southern Pennsylvania, Delaware and Carroll County.