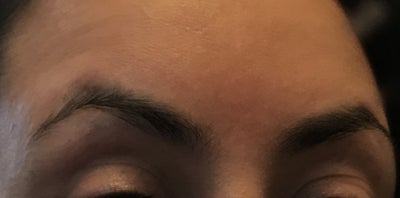 Q. Botox alternative for forehead? I've been seeing a lot about RF treatments that can help lift and tighten but I'm not seeing much for the forehead, temple areas. I'm almost 38 and would like something to help with the early signs of creepiness in the eyelid area. Is there anything out there? I'm prone to scarring so harsh lasers are out of the question for me and I'd like to stay away from Botox and fillers. 
A. Thanks for sharing your photo.
The beginnings of facial skin laxity start when skin repair diminishes and passive skin aging relaxes downward. There are 2 layers of the face and neck to rejuvenate; the laxed visible skin AND the sagging soft tissues under the skin.
Since I do not have the advantage to examine you, I hope you will be helped by the information below. Since you wish to stay away from Botox and Fillers, my immediate recommendations are:
obtain consultation with a talented, Board Certified Plastic Surgeon with extensive skills in:
non-surgical skin tightening using Obagi ZO Skin Health Rx regimen and chemical peels
consideration of Silhouette InstaLift
Don't forget to protect your skin from the elements! UV blockers, anti-oxidants, pigmentation control and acne / oil reduction will maintain your skin rejuvenation efforts. Consult with a Certified ZO Skin Health Specialist!

Everyone needs one or more layered improvement and in personalized combinations to achieve their optimal result. All surgical, minimally invasive and non-invasive procedures and their combinations should be discussed following a proper examination with a well versed, Board Certified Plastic Surgeon who performs all of these options so you will not receive a biased approach because he limited in his skills. Please explore our links for more expansive information and help.
I trust this is helpful. 
All the best!
Read more about similar topics:
This information is not meant as medical advice. It is provided solely for education. Our practice would be pleased to discuss your unique circumstances and needs as they relate to these topics.
Give us a call at  410.602.3322  or email Lauri@DrDeanKane.com and make an appointment soon. We're located on Reservoir Circle just a block off the Baltimore beltway, convenient to greater Baltimore, Annapolis, the Eastern Shore, Southern Pennsylvania, Delaware and Carroll County.