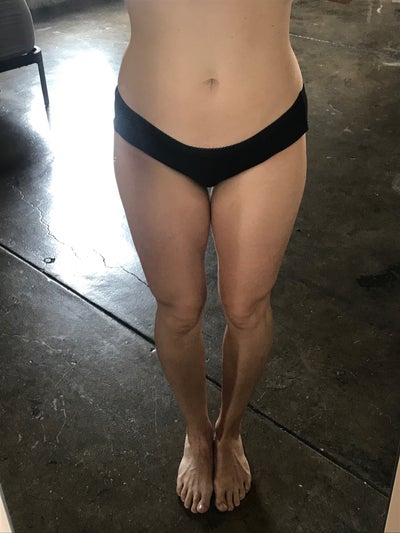 Q. What is the best alternative to CoolSculpting besides surgery? I am 5'2″ and 108 pounds, healthy and fit, and have had three separate treatments of CoolSculpting on my inner thighs to try to achieve an inner thigh gap with a board certified surgeon. For reasons unknown, I didn't see any results. We measured before and after and nothing changed which was very frustrating. Why is it that some people like me don't see any results? My next question is, if CoolSculpting didn't work for me what is an alternative to try? Trusculpt? Sculpsure? Kybella?
A. Thanks for sharing your photo. You look lovely. I do see the mid-upper thighs touching with an air-gap above. Without an in-person examination, I cannot offer you an opinion as to why CoolSculpting did not work in this area for you. Some of the thoughts may be:
True lack of fat in that area
Muscle bulge which does not respond to CoolSculpting
Wrong choice in applicator or machine failure
Wrong placement of the correct applicator
If you have no substantial fat, none of the alternatives you mention including TruSculpt, Sculpsure, Kybella will help.
If it is laxity of the skin which is "bunching" in this area and tightening which could help you, then Sculptra and ThermiTight may help.
In any case, see consultation from a Board Certified Plastic Surgeon with experience in all these minimally invasive and surgical options to best offer what is optimal for you.
I hope this is helpful. All the best!
These are all highly technical and skilled techniques and must be assessed properly. Consult with a well experienced and Board Certified Plastic Surgeon for your best outcome.
Good luck with your facial enhancement journey!​
Read more about similar topics:
This information is not meant as medical advice. It is provided solely for education. Our practice would be pleased to discuss your unique circumstances and needs as they relate to these topics.
Give us a call at  410.602.3322  or email Lauri@DrDeanKane.com and make an appointment soon. We're located on Reservoir Circle just a block off the Baltimore beltway, convenient to greater Baltimore, Annapolis, the Eastern Shore, Southern Pennsylvania, Delaware and Frederick.