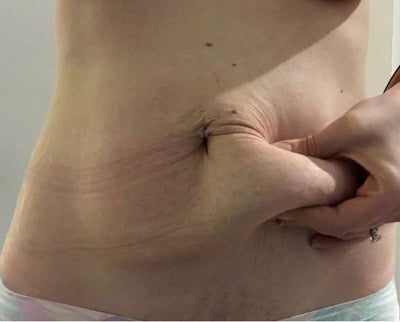 Q. Advice on surgical vs. non-surgical results for fat reduction, firming/removing excess skin post pregnancy. 30 yo, G1P1 (no more planned), 17 months post delivery, vaginal delivery, currently 130 lbs (120 ideal), 183 at end of pregnancy. Looking for info on CoolSculpting and SculpSure (medspa recommended SS abdomen, CS flanks and inner/outer thigh) vs abdominoplasty with Lipo, plus any other tx to consider. Would combining CS/SS and doing surgery later impact results? Decrease recovery time (2 weeks off work)? Also interested in incision design. If I did a "mommy makeover", 1 or 2+ surgeries?
A. Congratulations on your post-pregnancy weight loss! Thanks for sharing your photos.
In your case, you require fascial tightening, removal of skin excess and contouring of your flanks and back. CoolSculpting is too limited to produce a satisfactory result.  If you have completed your family, consider a traditional tummy tuck where the ab muscles are tightened, the sides are liposuction contoured, the excess skin is removed, the mons lifted and a new belly button is created.
For those considering a mommy make-over, ie. adding a breast lift and / or augmentation, I recommend staging the procedures as the circulation to the lower breast is the same as that for the tummy flap. While conservative, I would rather recommend 2 procedures spaced 3 or more weeks apart so the circulation and therefore skin flaps survive. If staged properly, tummy tuck first and breast lift / aug 3-4 weeks later, the recovery period of 6-12 weeks is the same.  
Please consult with a talented and Board Certified Plastic Surgeon for your best outcome!
I hope this helps. All the best.
Read more about similar topics:
This information is not meant as medical advice. It is provided solely for education. Our practice would be pleased to discuss your unique circumstances and needs as they relate to these topics.
Give us a call at  410.602.3322  or email Lauri@DrDeanKane.com and make an appointment soon. We're located on Reservoir Circle just a block off the Baltimore beltway, convenient to greater Baltimore, Annapolis, the Eastern Shore, Southern Pennsylvania, Delaware and Carroll County.