Day 1: Thursday, March 15th (See Video)
I have used the Obagi Skin Health system for 23 years but prepared my skin for a combination of Sculptra and Dr. Obagi's Controlled Depth Peel by Dr. Kane. The Sculptra was injected under the skin of my entire face from my lower eye lids to my jawline, my neck and décolleté.
After the Sculptra Dr. Kane applied the Controlled Depth Peel to my entire face, upper eyelids, lower lids and forehead. The goal was to stimulate my collagen and elastin for skin tightening both below the skin with Sculptra and above the skin with the Peel. What is great about Dr. Obagi's Controlled Depth Peel how Dr. Kane was able to design the level of peel that would best suit my skin. For me, I did not desire a deep level but enough to regain skin tightening, reduce skin crepiness  and minimize all the pigmentation from sun damage.
I had this dual procedure under IV sedation and when I woke up I had absolutely no pain what so ever. After several hours I was back at my desk working and competed a full day's work. The recovery only includes some icing today and to use my ZO Post Peel Recovery Kit of 2 creams to assist the healing process and provide a soothing moisturizer.
Day 2: Friday Picture (with no face makeup, foundation or concealer – just lipstick and mascara)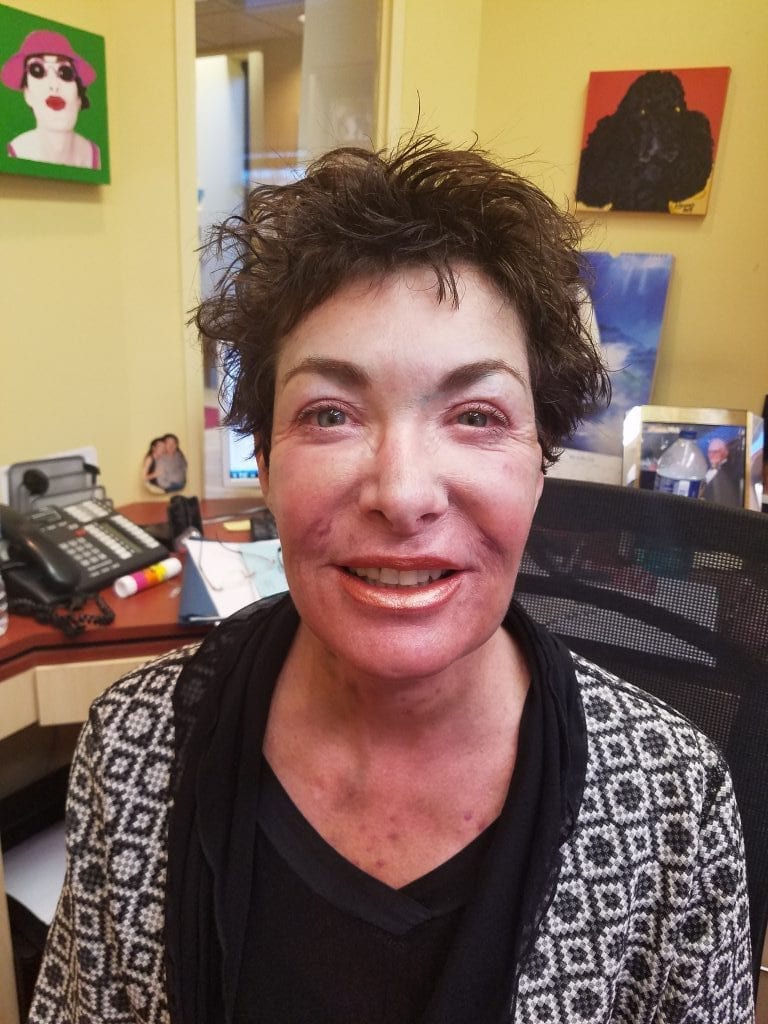 We had a full day of patient hours where I saw patients all day in consults. My face felt a little tight and the bruising from the Sculptra was beginning to come out. But, there was no pain at all, no discomfort and the ZO Skin Post Peel creams are the ideal care for keeping my skin completely comfortable and moisturized while the outer layer continues to lift.
Day 4: Sunday Picture (typical worst day of recovery for peel and bruising)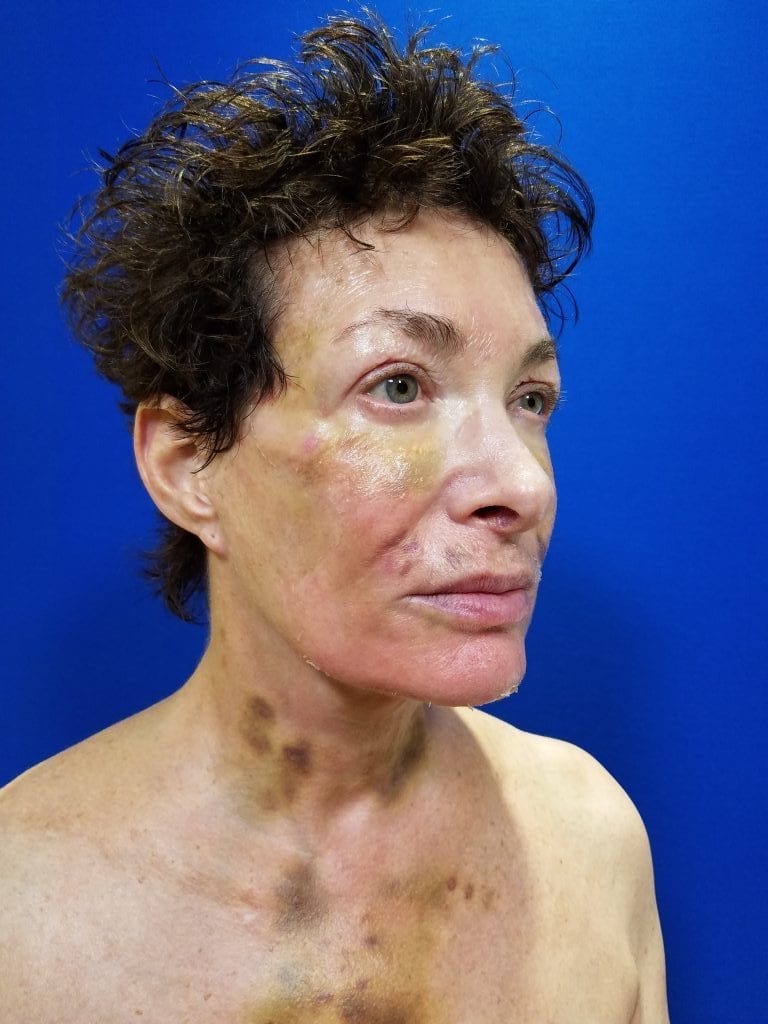 My face began to peel on Day 3 and has continued in full force into Day 4. If I didn't have the Sculptra bruising you really wouldn't be seeing much but the skin peeling. Again, except for feeling tightness from the peel, I have continued to apply my post ZO Skin recovery skin kit creams to my face to keep the skin moist and comfortable and to allow my new skin to properly heal.
Day 5 and 6 Monday and Tuesday (picture of me before and after with makeup so it's possible to work within 6 to 7 days)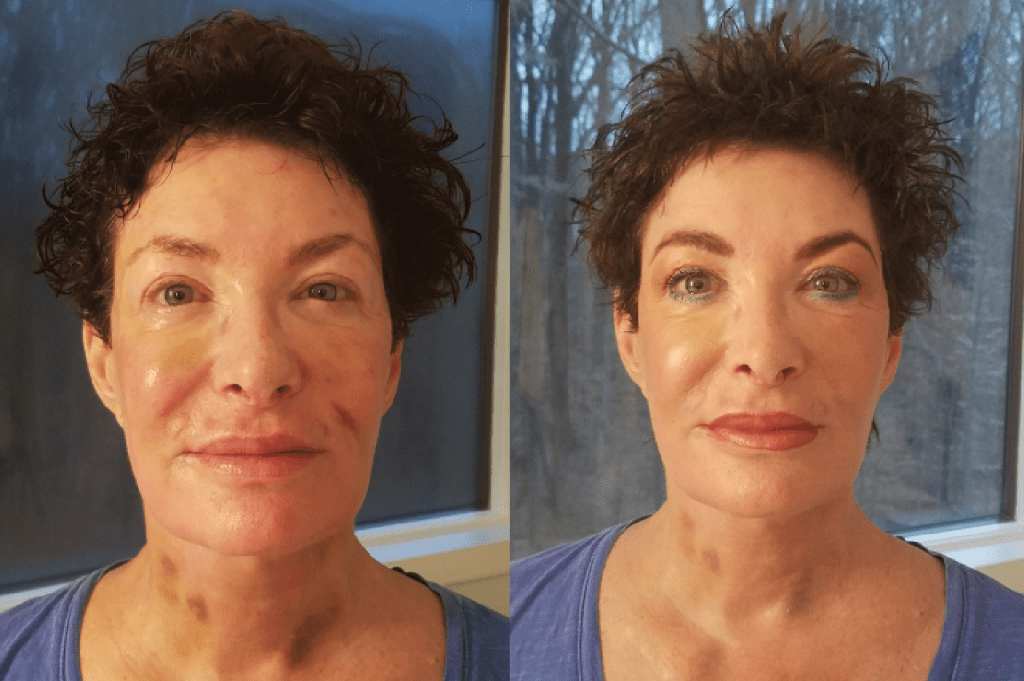 By Monday Day 5 the peeling was completed. In my pictures of me with and without makeup on Tuesday Day 6 you can see the bruising from the Sculptra injections, but I am now able to wear makeup as there is no more peeling skin. While you can see the mild bruising through the makeup, it is very doable to go to work. So, off to work I did.
Day 7 and 8 Wednesday and Thursday (with makeup)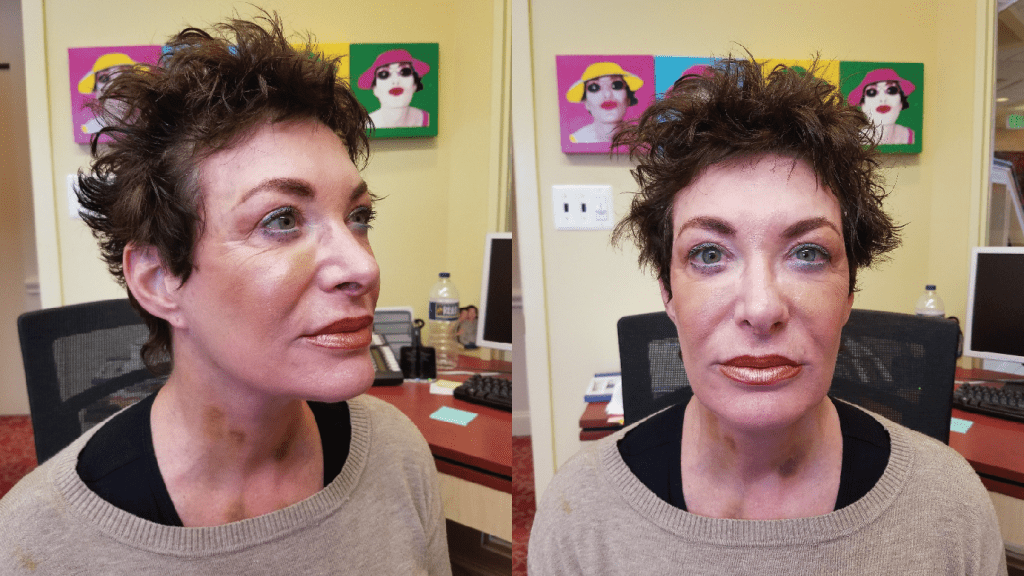 Again the bruising is fading nicely. For me, I am a 8 to 10 day bruiser so I planned out this time accordingly. Today I will begin back to applying my ZO Skin Health care using my 0.1% tretinoin cream , Melamix and Melamin to stimulate my just peeled skin to peel again. While my skin looks glowing now, after 6 weeks of returning to my ZO therapeutic system it will stimulate greater skin renewal and my skin will only continue to look more radiant, tighter and beautiful.
At 62 this is truly how I continue to stop the aging process and keep my face looking forever young.
---