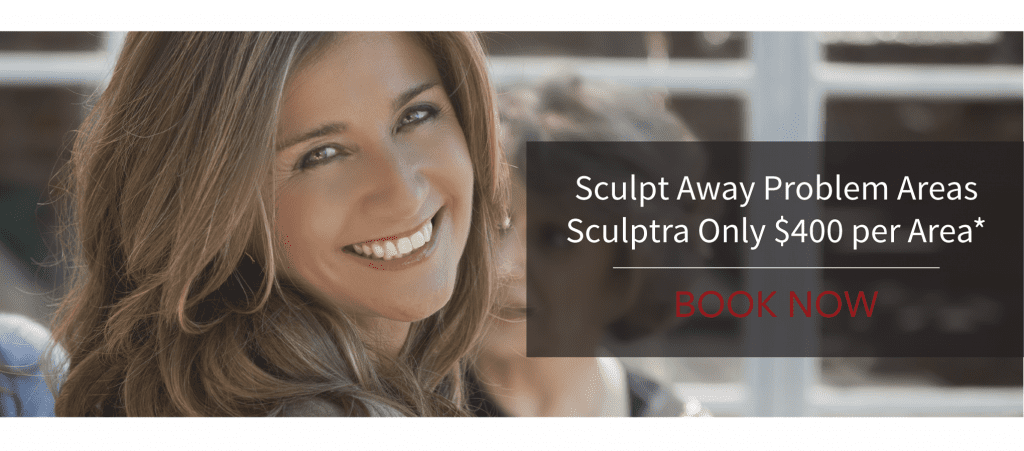 Targeting Sculptra for your Problem Areas
By Lauri Kane, MPH, ScD, Patient Educator for Dr. Dean Kane, Center for Cosmetic Surgery and Medi- Spa Baltimore MD
Sculptra is truly a fountain of youth that all women need to consider in order to stop the aging of the skin and maintain the collagen and elastin for the rest of your life. The sad truth is that we biologically begin the aging process at 30 years old and continue the slowing down of our faces and body thereafter.  While we may not see the signs of aging until 40 or older, our decline starts earlier than we think. The loss of collagen and elastin is the culprit to aging.
Maintaining Beautiful Skin from the Inside
For skin to be beautiful you need to do something both inside and out. Sculptra is injected under the skin to stimulate your collagen and elastin and all the youthful properties of skin. Sculptra is NOT a filler. Sculptra will not only stop the loss of collagen and elastin, but stimulates a continual production of these crucial rejuvenating skin properties.
Targeting your Problem areas with Sculptra
While injecting Sculpltra into the entire face is optimal, it is also possible to just target your problem areas. The main areas of the face that women often complain about is their lower eyelids, lip areas, nasal folds, marionettes, hollows in the cheeks and hollows in the temples. For women on the go where a full face of sculptra often causes more extensive bruising, the targeted areas also bruise but these areas are much smaller and easier to cover up with makeup. It requires a 2-3 session in the first year and yearly boosts. Targeted Sculptra is ideal on both the pocketbook and the reduced downtime.
The Sculptra Process
The first time you begin to use Sculptra 2 to 3 sessions are needed spaced out 6 weeks apart. These initial sessions of Sculptra lays down the foundation for a year of continual stimulation of your collagen and elastin. Every year after, a yearly boost of Sculptra will maintain and continually keep producing the collage and elastin maintaining thicker, firmer, tighter and creamy smooth skin and forever stop the aging of your skin. Without Sculptra you will continue to lose your elastin and collagen and continue to see the skin get thinner, saggier and droopier. Jowls, hollows and wrinkles will continue to get worse and worse.
Subtle vs Instant Gratification
Sculptra offers women subtle and gradual results. You begin to see the changes in the skin 6 weeks after the second session. This means your skin is slowly improving over a 12-week period but continues for 12 months. Fillers give you instant plumping, fill and ultimately instant gratification.  Sculptra works much more subtly and slowly changes the quality of your skin to acheive firming and tightening. Fillers and Sculptra complement each other very well and we often use both depending on the needs of our patients. Ideally women looking to achieve tightening over their entire face needs to consider using Sculptra in the entire face. But if only certain aspects of your face concern you, then the Targeted Sculptra works fantastically.
Sculptra is also the ideal solution for women who have had prior facelifts. Sculptra will continue to keep the facelift results firm and tight with ongoing lasting effects. In our practice we strategize our facelift patients so that at least 8 months to 1 year later post their facelifts we begin their Sculptra treatments.
My Personal Regiment
I personally started my Sculptra treatments 5 years ago prior to my facelift. Three years ago, I had my facelift and then continued by regiment of yearly boosts of Sculptra thereafter. I also have never faltered in using Dr. Zein Obagi's ZO Skin Health Products with Retin A or his therapeutic levels of Retinol for over 22 years.  I'm a strong believer in stimulating my skin both inside and out at the same time. I personally believe the combo of Sculptra and ZO Skin Health will keep me looking young and refreshed forever. Thanks to my husband's talented hands and Dr. Obagi's exceptional advanced skin science and technology  for maintaining healthy glowing skin.
I am always available to our patients who want my personal advice on how you can stop, reverse and maintain a youthful appearance. You can email me atLauri@DrDeanKane.com or call our office 410-602-3322. The good news is that you get my 25 years of experience working with patients and my husbands, Dr. Dean Kane's 35 years of surgical and non-surgical skilled hands and artistic mind to offer you the most up to date cosmetic procedures.
Book now!  Give us a call at  410.602.3322  or email Lauri@DrDeanKane.com.
*Restrictions: Minimum of 2 sessions required for best results. May pre-purchase for future use.
Cannot be combined with other offers. Other restrictions may apply. Offer expires October 31, 2019.
Read more about similar topics:
This information is not meant as medical advice. It is provided solely for education. Our practice would be pleased to discuss your unique circumstances and needs as they relate to these topics.
Give us a call at  410.602.3322  or email Lauri@DrDeanKane.com and make an appointment soon. We're located on Reservoir Circle just a block off the Baltimore beltway, convenient to greater Baltimore, Annapolis, the Eastern Shore, Southern Pennsylvania, Delaware and Carroll County.