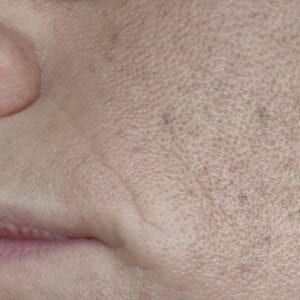 Q: What can be used for under eye smile lines (not crows feet)? I get smile lines and bunching under my eyes. They're etched in even when not smiling. I received Botox for crows feet, but it made no difference. I've had tear trough filler but made no difference to lines. Can Botox be used for smile lines under the eyes? I want to improve my undereye area when I smile. I don't have crows feet as such. Also, I have lines from nose to corners of my mouth, as they are superficial and I have no lack of volume, I've been told by 2 doctors they wouldn't do filler.
A: When one smiles, the corner of the lips are elevated by the pull upward of the cheek muscles called the zygomaticus complex. This passively folds or creases the skin under the eye. Crease lines also appear along the lower eyelid using the circular eye-closure muscle, the orbicularis. Botox is a injectable muscle relaxer and will weaken these muscles providing laxity of the muscle tone and sagging of the skin; therefore not typically used cosmetically in these muscles. Your options to discuss with your Board Certified Plastic Surgeon or Dermatologist are to:
Thicken the wrinkles and folds with filler
Stimulate more collagen formation with retinoid creams or injectable Sculptra
Weave more collagen resistance into the skin with PDO injectable threads
Tighten the skin with chemical peels or laser.
I hope this helps! Good luck.
---
Read more about similar topics:
This information is not meant as medical advice. It is provided solely for education. Our practice would be pleased to discuss your unique circumstances and needs as they relate to these topics.
Give us a call at (410) 602-3322 or email Lauri@DrDeanKane.com and make an appointment soon. We're located on Reservoir Circle just a block off the Baltimore beltway, convenient to greater Baltimore, Annapolis, the Eastern Shore, Southern Pennsylvania, Delaware and Carroll County.