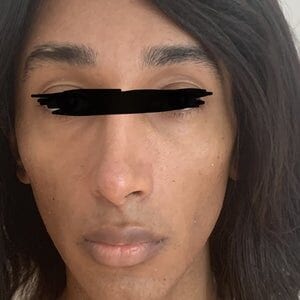 Q: A I a good candidate for Sculptra or should I just get fillers? I'm very self-conscious about how hallow my face looks. I just turned 30, I don't smoke, drink or do drugs and I want a more full face and I'm debating if Sculptra is right for me or fillers is best? What are the complications from Sculptra and how common are the risks?
A: Thanks for sharing your photos. They illustrate your concern regarding hollow under the eyes. Your facial features are beautiful and exotic. A fuller mid-upper cheek, ie the "apple" may help you achieve your desires.
Sculptra is a bio-active injectable which stimulates collagen formation, firming and a bit of filling. Since you don't have wrinkles with only a hint of a tear-trough, I believe other fillers are your better choice. I have found the risks of nodule formation exceedingly low and easy to resolve, even around the eye or mouth).
A properly selected hyaluronic acid gel filler or calcium hydroxylapatite filler by a technically well-experienced injector is a 15 to 30 minute procedure with minimal risk and 1plus years duration.
Fat is a wonderful filler but it has its limitations. That is, you need fat to harvest, an average of 30% survives so you many need more sessions, it will cost more.
Please consult with a Board Certified Plastic Surgeon with great skills and experience in these techniques.
All the best!
---
Read more about similar topics:
This information is not meant as medical advice. It is provided solely for education. Our practice would be pleased to discuss your unique circumstances and needs as they relate to these topics.
Give us a call at (410) 602-3322 or email Lauri@DrDeanKane.com and make an appointment soon. We're located on Reservoir Circle just a block off the Baltimore beltway, convenient to greater Baltimore, Annapolis, the Eastern Shore, Southern Pennsylvania, Delaware and Carroll County.