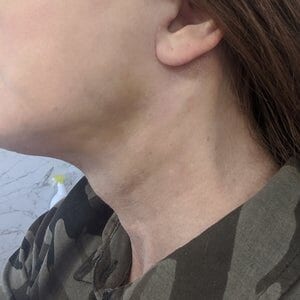 Q: Request for a second opinion: Horizontal bands across my neck after facelift and neck lipo. Is this normal? I know it's still early, and I have talked with my surgeon, but I would just like another opinion. I'm 3 weeks out from a facelift and neck lipo. I am still swollen and very tight, understandably, but I'm mostly concerned with what I call the "bicycle tire" around my neck. My surgeon advised that I do some massage and just be patient. But when I look online I mostly see platysmal bands, not these horizontal lumps. Is this normal?
A: Thanks for sharing your photos. They are helpful and demonstrate the very early healing process that completes itself in 12 or more months.
If the first photo is a preoperative picture, the medial platysmal bands you see in the lower neck are still there in the subsequent 3 week photos. The "bicycle tire" is the lowest level of "neck lipo / skin elevation" and therefore where swelling will descend particularly when upright. As you will learn in the link below, swelling or edema will "roller-coaster" more or less with activity and position. Any banding, dimples, lumps and deformities will be observed during the 3rd to 12th week as the edema recedes and the initial scar forms, only to recede into a smoother sheet like scar thereafter.
I agree, compressive massage of the swelling and "squeegee" massage of the scar is helpful.
You appear to be healing normally but must return to your surgeon for a in-person proper evaluation.
---
Read more about similar topics:
This information is not meant as medical advice. It is provided solely for education. Our practice would be pleased to discuss your unique circumstances and needs as they relate to these topics.
Give us a call at (410) 602-3322 or email Lauri@DrDeanKane.com and make an appointment soon. We're located on Reservoir Circle just a block off the Baltimore beltway, convenient to greater Baltimore, Annapolis, the Eastern Shore, Southern Pennsylvania, Delaware and Carroll County.