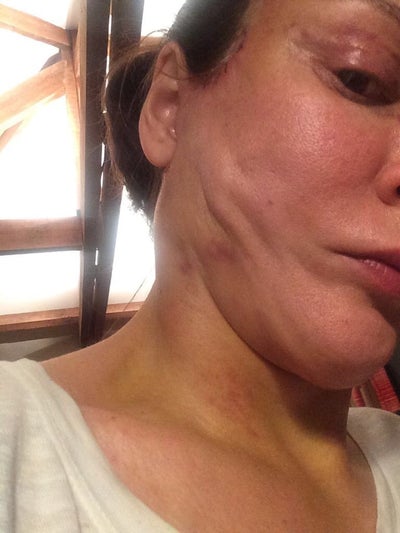 Q. Only 10 days out from MACS lift, concerned with odd rippling, ridge above jawline. It's soft and spongy. Likely cause?  My jawline is hidden above this ridge – it moves. Not painful. Also dents beside my mouth. Should I be concerned? Surgery was OS so a long way to return to my surgeon. Any advice would be appreciated.
A. Thanks for sharing your photos!
A MACS facelift is a limited procedure which depends more on the pull of the skin than redraping skin excess over the re-contoured soft tissues of the face.
What I see is the pull of the skin toward the side-burn and what appears as a fluid (seroma or liquefying hematoma) expanding the skin. It is best to have your surgeon care for this but you should see the closest "well informed" physician to examine and if needed, aspirate and / or drain any fluid underneath. Don't delay any further, there are prolonged skin irregularities to be concerned about and you should send these images and concerns to your operating surgeon.
Discuss the need for appropriate soft tissue physical therapy as well to hasten the healing process.
I wish you the best!
Read more about similar topics:
This information is not meant as medical advice. It is provided solely for education. Our practice would be pleased to discuss your unique circumstances and needs as they relate to these topics.
Give us a call at  410.602.3322  or email Lauri@DrDeanKane.com and make an appointment soon. We're located on Reservoir Circle just a block off the Baltimore beltway, convenient to greater Baltimore, Annapolis, the Eastern Shore, Southern Pennsylvania, Delaware and Frederick.