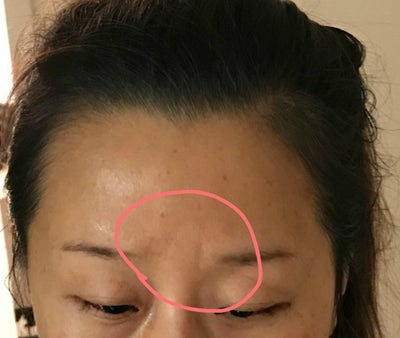 Q. After Botox, two weird lines have appeared between my eyebrows.  November 1, I did Botox on my foread 8 unit ,and 4-5 units between my eyes area, 8 to 10 days after I did extra 2 units, after that 2 unit 2 weird lines show up between my eyebrows, and today is December 13, still there, I want to know why and how to fix it please help me, I never had those lines before, this is like saving my life, thanks, my first language is not english, hope you can understand.
A. Your injector provided very basic Botox injection technique of the glabella group of muscles. Other forehead muscles of expression are causing the 2 new creases. 
Please consult with a skillful and talented, Board Certified Plastic Surgeon who understands the anatomy and advanced injection technique in order to obtain improved results. 
Read more about similar topics:
Plastic Surgery & MedSpa
This information is not meant as medical advice. It is provided solely for education. Our practice would be pleased to discuss your unique circumstances and needs as they relate to these topics.
Give us a call at  410.602.3322  or email Lauri@DrDeanKane.com and make an appointment soon. We're located on Reservoir Circle just a block off the Baltimore beltway, convenient to greater Baltimore, Annapolis, the Eastern Shore, Southern Pennsylvania, Delaware and Carroll County.