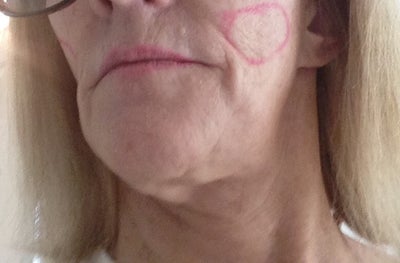 Q. Can facial implants be placed anywhere in the face? I had most of my lower bottom teeth pulled 30 years ago. I started seeing facial collapse about 5 years ago. I have had 9 dental implants and bone grafts in the last 10 years. They all failed I had a facelift 12 years ago. What bothers me most is the large holes in my lower cheeks where my teeth used to be. I have the areas circled. My question is can facial implants be placed there? Also is there any chance the under lying dropping of my face is muscle and skin or just skin.

A. So sorry for your troubles! Thanks for sharing your photos. They are helpful but you will need an in-person consultation.
Facial implants are certainly an option; the benefits must be weighed against the risk of complications. They are not performed universally, so please select your Board Certified Plastic Surgeon, ENT Surgeon or Oral Surgeon carefully. Based on your concerns / desires, a panoramic x-ray or CT scan will help in determining the amount of bone loss, structural asymmetries and need for boney support and fill needed.
My initial thoughts and considerations are:
Non-surgical skin tightening: Obagi, ZO Skin Health, TCA Peels / Laser
Minimally invasive skin tightening: ThermiTIGHT, Sculptra
Surgical: Secondary face and neck lift.
I wish you the best success on this journey for self-improvement. All the best!
Read more about similar topics:
This information is not meant as medical advice. It is provided solely for education. Our practice would be pleased to discuss your unique circumstances and needs as they relate to these topics.
Give us a call at  410.602.3322  or email Lauri@DrDeanKane.com and make an appointment soon. We're located on Reservoir Circle just a block off the Baltimore beltway, convenient to greater Baltimore, Annapolis, the Eastern Shore, Southern Pennsylvania, Delaware and Carroll County.