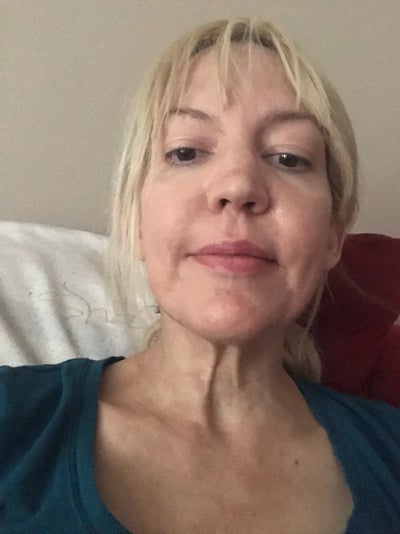 Q. Can Botox or fillers help the look of neck bands temporarily? I'm 47 years old and very unhappy with my neck. I want to put off a lower face lift till I am 50. Would Botox or fillers help the look of my neck temporarily or is their any other procedure that would help that does not involve surgery? I'm not looking for perfection, I just want to not look older than I am and I feel my neck is the only area that is aging badly.

A. Thanks for sharing your photos. They are helpful.
Without gritting your teeth it is difficult to assess whether the bands are skin folds or the medial edge of the platysma muscle (ie., "the" bands).
I can appreciate your desire not to involve surgery such as a platysmaplasty which creates a hammock from the two edges and lifts the tissues back under the jawline.
Botox will weaken the edge of the muscle band softening their appearance. The caveat is that weakening the muscle also allows the tissues under the jawline to sag.
Another option is to use the minimally invasive Silhouette InstaLift suspension sutures to pull the bands together and lift the neck.
I have used Sculptra for neck lines but Sculptra nor fillers will not provide any enhancement of your neck.
I hope you will consult with a talented, Board Certified Plastic Surgeon who will properly evaluate you and your desires and offer the best treatment to meet your expectations.
Read more about similar topics:
This information is not meant as medical advice. It is provided solely for education. Our practice would be pleased to discuss your unique circumstances and needs as they relate to these topics.
Give us a call at  410.602.3322  or email Lauri@DrDeanKane.com and make an appointment soon. We're located on Reservoir Circle just a block off the Baltimore beltway, convenient to greater Baltimore, Annapolis, the Eastern Shore, Southern Pennsylvania, Delaware and Carroll County.