Plastic Surgeon Dr. Dean Kane of Baltimore Answers Question Regarding Non-surgical Facelift Options 
Q. 
What non-surgical options are there to a facelift?
A. 
​The
surgical facelift
evolved from a:
skin-pinch removal to a
skin lift and excise procedure early in the 1900's to a 2 layer
skin lift and soft tissue suspension surgery in the 1960's.
The 1980's began the evolution of separating the
surgical lift basics
of:
redraping skin laxity,
removing skin excess,
reposition fat and soft tissue drooping and
replacing lost fat with newer but non-surgical options.
Today younger patients and post-facelift patients are benefiting from the non-surgical injectibles and facial tightening skin therapies to minimally invasive skin tightening and soft tissue replacement without a surgical facelift. The following is a re-edited blog from:
http://cosmedmd.blogspot.com/2013/09/thread-lifts-no-surgery-face-lifting.html?m=1
A surgical facelift is no longer the only option for lifting and contouring a face. Other options include:
the use of muscle relaxers to rebalance facial expression such as Botox and Dysport and
dermal fillers to plump up lost volume,
ZO Skin Health creams to rejuvenate skin aging,
skin tightening lasers and radio-frequency treatments and other great ways to fight the effects of gravity and collagen degeneration.
Read
https://drdeankane.com/i-am-32-years-old-with-sun-damage-from-the-beach-boating-skiing-and-hiking-i-see-the-wrinkles-and-brown-spots-already-on-my-skin-my-mother-is-25-years-older-and-looks-40-years-older-what-can-we-d/
 and Read
https://drdeankane.com/13963-2/
for more information.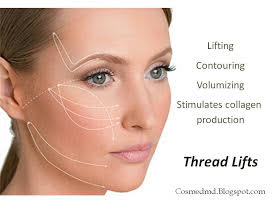 Another renewed option are thread lifts, often referred to by brand names such as Silhouette Lift, Contour Lift or Happy Lift, are another important method that is gaining in popularity and efficacy. Also known as suture lifts, thread lifts involve the use of threads or sutures made from the same materials used in surgery to close wounds. When placed under the skin, they can be used to tighten, suspend, reposition and volumize areas of the soft tissues under the skin that are loose or sagging. Much like suspension cables, they are designed to hold up the skin in place, and provide a supportive structure that defies the effects of gravity and aging. Thread lifts are a facial rejuvenation alternative, that requires no general anesthesia, hospitalization or long recovery, and gives immediate results that continue to improve up to 3 months after the procedure. They can be performed in various areas of the face and body, to target specific problem areas, or used to give an overall facial rejuvenation from the brows to the neck area. Many times, a thread lift is combined with a skin tightening procedure such as ThermiTIGHT and ThermiSMOOTH and maintained with ZO Skin Health stimulation. While thread lifts are not a replacement for a full face lift where excess skin needs to be removed, they are an ideal option for those who want a natural yet unmistakable improvement, without all the stress and worries of a full surgical procedure. Dr. Dean Kane was proficient and an expert in the use of Contour Threads with 7 year results until the loss of this product made it an unavailable option many years ago.
What can thread lifting do?
Thread lifts can be a great way to rejuvenate and restore youthful contours to areas such as the brows, cheeks, jowls and the neck area. Each suture or thread has cones or knots that help to hold lifted skin in place. Made of absorbable materials similar to those used in cardiovascular and opthalmic surgeries, the sutures are designed to  have imbedded cones or hooks that work to stimulate collagen production while holding the thread in place. The benefits of a thread lift include shaping and lifting, and can give dramatic results that last from 18 months up to 5 years. Thread lifts are a good option for those aged 30 to 60 years, for whom gentle sagging may be apparent, but collagen deposits are still enough for regeneration. Younger patients who want to improve their facial contours, or those with facial asymmetry may also consider this treatment.
How is a thread lift performed?
Thread lifting involves the use of a absorbable thread that is inserted through a needle puncture under the skin following local anesthetic. The thread is positioned in a way that helps the skin be lifted or the underlying soft tissues repositioned or tightened. The results are immediately visible and continue to improve in the next 3 months as collagen remodeling takes effect. The threads are invisible, although can sometimes be felt with the fingers but will dissolve once the improvement is set. . Some patients feel minimal discomfort such as a slight ache or sensation while chewing or smiling, but this fades within the first week. Slight dimpling, bruising, and swelling is normal within the first few days, but improve rapidly as the sutures are absorbed.
Areas which can be treated include: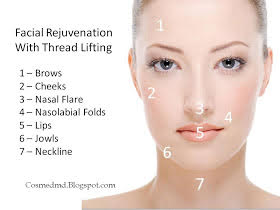 Brows – brow line lifting Cheeks – cheek fat repositioning and contouring Nasal flare – correct for widely flared nostrils and improve nasal shape Nasolabial folds – lift and tighten cheek contours to reduce nasolabial folds Lips – improve lip shape and contours Jowls – lift lower jaw area to improve and tighten jowl shape and contour Neckline – reduce turkey neck effect and return youthful contours to neckline Dr. Kane is anxiously awaiting the availability of this renewed product and technique particularly because of its great success in his hands with properly selected patients in the past.
This information is not meant as medical advice. It is provided solely for education. Our practice would be pleased to discuss your unique circumstances and needs as they relate to these topics.