There are numerous concerns that people have about their lower lids such as tear troughs indented lines, dark hollows in the lower eyelid area and bags under the eyes. In the Baltimore Office of Cosmetic Surgeon, Dr. Dean Kane, he is an expert injector with 35 years of experience in not only performing fillers and Botox, but also in performing surgical Face Lifts and Eyelid lifts. As a result, he has developed very successful techniques to deal with all these lower eyelid issues.
Tear Trough Concerns are when patients have a deep line extending from the corner of their eyes down onto their cheeks. This line is forming a dark indent in the skin and patients want to see this line softened and lightened. Here is an example of a before and after of a tear trough filler.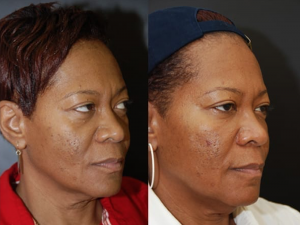 Filling in the Tear Trough with Restylane Lyft 2cc
Dark Circles and Hollowness under the eyes is when below the eyelids the patients develop a flatness and deep hollow well. Again, Dr. Kane uses his cannula technique, but will place the filler so that he plumps up this entire area.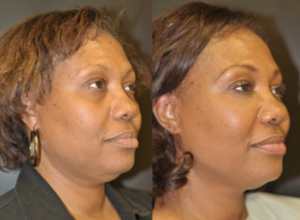 Plumbing the hollowness below the Eyes with Restylane Lyft 2cc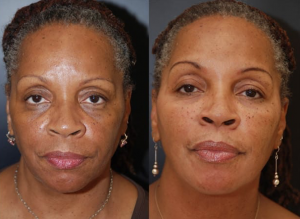 Filling in both Tear Trough and Flatness with Restylane Lyft 2cc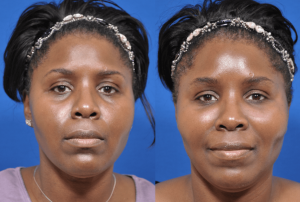 Radiesse to lighten and plump dark hollows
Bags under the eyes are when you see a bubble of under the eyes. This bubble is fat that comes out from under the eyes. There is a fine membrane of skin that holds fat below the skin. The bubble of fat is causes by the fat coming out from under this thin membrane. While only surgery can remove this fat, Dr. Kane has artfully camouflaged this bag of fat by placing the filler up to this fat incorporating the fat as part of the filler and making a smoother cheek.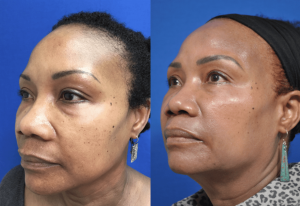 Camouflaging the Bags under the eyes with 2cc Restylane Lyft

Radiesse to Camouflage the bags under the eyes
In all the patients above, Dr. Kane uses a canula technique to place the fillers deep along your cheek bone area. A canula technique is where he first injects lidocaine to numb the entire cheek area. The canula is a blunted needle that reduces the risk of bruising and can be placed deep under skin to place the fillers. There is only one puncture to the skin where he puts the syringe to fill in the problem areas so again there is much less bruising. Dr. Kane knowing the anatomy of the lower eyelids has tremendous experience in knowing how to place the fillers for the specific concerns that you have.  Please visit our website www.DrDeanKane.com or call our office 410-602-3322 to schedule your consultation and filler treatment.