When you think of fillers you generally think of placing it in lips, nasal folds, and cheeks. But today Dr. Dean Kane, Plastic Surgeon in Baltimore Maryland, is using fillers on the face you do not normally think about. Patients today are relying on fillers to replace surgical rejuvenation of the nose, chin, and jawline.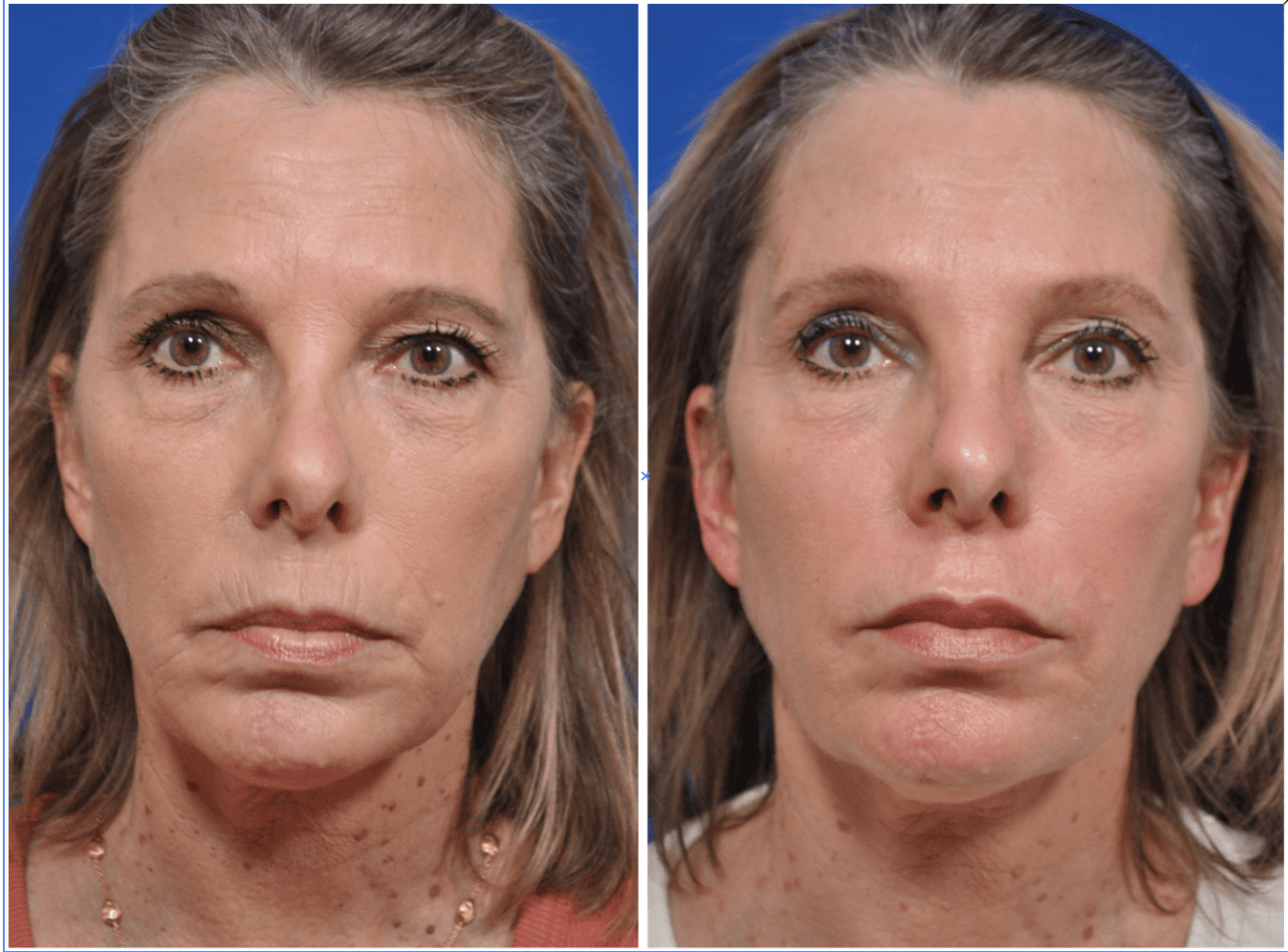 Patient Photos Before and 2 Weeks Post Treatment
Temples: Fillers to Plump Out Temple Hollows
Brow: Dysport for a Non-Surgical Browlift
Eyes: Dysport Also Lifts the Hooding of the Eyes
Lips: Dysport and Restylane Filler
Nose: Radiesse to Smooth and Contour the Nose
Skin: ZO Skin Products 
Patients are coming in our Center for Cosmetic Surgery and Medspa requesting a more prominent chin, a stronger jawline and reshaping of their noses. Dr. Kane uses Restylane Defyne which has just been FDA approved to improve the prominence of the chin and jawline. This filler which is a dermal hyaluronic acid gel moves with expression, so it is excellent to used in these areas. The improvements are incredibly subtle but very effective to rebalance the chin and jawline features.
Another very new use of fillers is in the nose to correct the tip of the nose, camouflage a bump in the nose, raise the bridge or back of the nose and even correct a past rhinoplasty surgery that just wasn't done exactly like you would have wanted it to be.
While we use Dysport and Botox to stop the squeezing of the forehead muscles, lines, wrinkles, and creases still can form which cannot be totally corrected by Botox and Dysport. Using a filler is excellent to fill and plump out the creased skin of the 11's between the eyebrows, the horizontal lines across the forehead and the crows feet wrinkles along side the outside of the eyes. Dr. Kane is using a very new filler called Revance for these creases and wrinkles. Revance is also a dermal hyaluronic acid filler but designed to be very liquid and extremely smooth. When injected it is like liquid butter filling in the wrinkles that blends beautifully into the skin without lumps or bumps.   This is important because the forehead is very boney, and fillers can look very lumpy and bumpy. But this does not occur with exceptional filler designed to be extremely smooth.
Dr. Kane is one of the few doctors in Baltimore using Revance due to his expert injecting skills of all fillers and Botox.
When you come to the Baltimore plastic surgery office of Dr. Dean Kane, you will be incredibly surprised by not only the beautiful home-like environment but the friendliness of his staff and the true genuine caring and artful abilities of Dr. Dean Kane. You can feel rest assured you have come to a very experience injector and surgeon for over 33 years. Give our office a call 410-602-3322 and you will be scheduled within the week of your call. We look forward to seeing you soon.