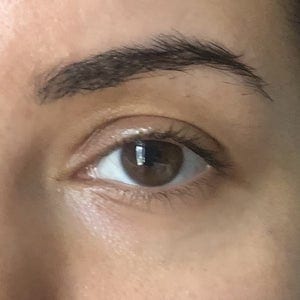 Q: Am I a good candidate for the tear trough? If so, is Restylane a good option? I'm considering having a tear trough filling as my face looks tired because of my dark circles, however, I was reading that not many people are good candidates for it as it's a very sensitive area and can lead to complications. Would be great to hear some feedback on this matter.
A: Thanks for sharing your photo. While it is not a complete picture it helps.
The beginnings of facial skin laxity start at 30 years old when collagen skin repair diminishes and passive skin aging relaxes downward. The web of fibrous compartments under the skin loses fat, stretches, separates and elongates forming 5 growing "waves" of skin at points of attachment, developing:
hooding along the eyes,
lower eyelid / cheek junction or tear trough / nasojugal fold
nasolabial fold,
lateral mouth commissure and marionette folds,
jowls and neck.
Without the opportunity for an in-person consultation, I do notice some eyelid skin thinning and laxity, very mild sun exposure pigmentation to the skin and the beginnings of a tear trough.
The tear trough develops as the layered muscle compartments separate exposing the underlying muscle irregularities.
I would recommend that you speak with a Board Certified Plastic Surgeon with a broad depth in non-invasive and minimally invasive options. Consider:  
Dr. Zein Obagi's, ZO Skin Health for non-invasive exfoliation, pigmentation control and retinoid skin stimulation of collagen and skin peels for tightening.  Minimally invasive injectable Sculptra to further stimulate firming and tightening of the lower lid region
I would be very careful and highly selective of your injector using a clear gel hyaluronic acid like Restylane in your tear trough. Not only due HA gels coalesce and form visible nodules and tubules even when injected deep, it will reflect a bluish tinge (tindel) particularly with thin skin and underlying muscle color visibility.
Consider diluted Radiesse under the eyelid muscle to diminish the blue reflection, and deeper next to the bone to fill the trough.
Fat grafting is excellent because it is yellow like the fat displaced along your eyelid and cheek but has other considerations like diminished survival and lumpiness.
Revance (Teoxane), relatively new to the US but used in Europe provides a firming and smoothening effect particularly superficial in the skin and along the nasojugal fold.
I hope this is helpful. All the best!
---
Read more about similar topics:
This information is not meant as medical advice. It is provided solely for education. Our practice would be pleased to discuss your unique circumstances and needs as they relate to these topics.
Give us a call at (410) 602-3322 or email Lauri@DrDeanKane.com and make an appointment soon. We're located on Reservoir Circle just a block off the Baltimore beltway, convenient to greater Baltimore, Annapolis, the Eastern Shore, Southern Pennsylvania, Delaware and Carroll County.