Dr. Dean Kane, board certified plastic surgeon finds Sculptra is the secret for his patients to look and stay naturally refreshed and rejuvenated with a slower, naturally rejuvenated onset. Dr. Kane uses Sculptra to stimulate the diminished collagen that occurs in the aging process of the deep and superficial lines, folds, hollows and sagging of the face. Sculptra is the ultimate collagen builder and plumper that gives Dr. Kane's patients over 2 years of subtle but natural anti-aging effects. Sculptra is the true non-surgical facelift!
See the Sculptra results of Lauri Kane below after 2 sessions of Sculptra performed 6 weeks apart.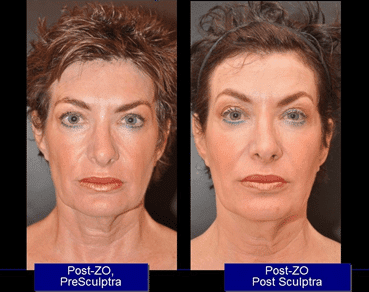 Click here to learn more about targeted Sculptra for defined problem areas of the face.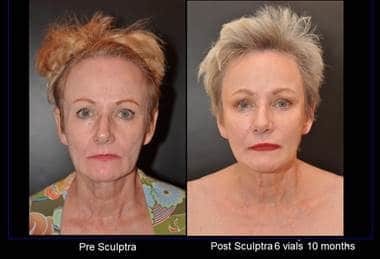 Before and After Sculptra results after 3 sessions that involved 2 vial per session over a 10 month period.
What is Sculptra?
Sculptra is injectible filler made from poly-L-lactic acid. This is a biocompatible synthetic material in a microscopic form, used by doctors in dissolvable surgical sutures.
How does Sculptra differ from other fillers?
Another big difference between these fillers is that Restylane, Perlane and Juvederm Ultra give Dr. Dean Kane's patients immediate plumping and volumizing results which will last up to 12 months. Sculptra is designed to stimulate your bodies own collagen which takes about 3 months to see the results, but then lasts up to 25 months.
How is Sculptra injected?
Sculptra requires multiple sessions done over a 12 week process. In the first session, Dr. Kane will inject 2 vials of Sculptra, one for each side of the face. Each vial is diluted with sterile water and lidocaine that immediately numbs the face as soon as Dr Kane injects into the face. Sculptra will be injected into that area of the face from the temples into the cheeks and all the way down into the jaw line as required to achieve the desired results.
Following this first session, patients should not expect to see any changes in the face for 3 months. This first session is strictly meant to lay down the first foundation to initiate your face to begin stimulating your own collagen production. You will notice a very positive swelling of the tissues but this will quickly absorb.
In the second session, 6 weeks later, Dr. Kane will administer 1 to 2 more vials in the same temple, cheeks and jaw line. It is in this second session that your face will begin to increase its collagen production filling in the deep and superficial levels of the face. As the subtle changes begin, you will start to see the anti-aging effects appear in front of your eyes daily. In another 6 weeks later, you will return to see Dr. Kane for a re-evaluation to determine if another 1 to 2 vials are necessary to fulfill your desired results. Excitedly, you will continue to enjoy the plumping and filling of your wrinkles, folds and hollows of your face for up to 25 months. To see yourself anti-age vs age is truly the magic of the Sculptra Secret.
Where can Sculptra be injected?
Sculptra can be injected in the face and in all body areas. Wherever you are trying firm, thicken and tighen skin, Sculptra can be injected. While the face is the most commonly requested area, the neck, décolleté (crepey area between the breasts), arms, legs, banana rolls and the buttocks can be injected to be stimulated to improve the collagen and elastin of these areas. Having dimpling and cellulite issues in the buttocks? Sculptra is ideal to plump and firm dimples and irregularities of the buttocks.
Schedule your consultation with Dr. Dean Kane
To learn more about Sculptra by scheduling your consultation with Dr. Dean Kane. Call our office 410-530-0808 or email Lauri@DrDeanKane.com. Lauri will be happy to respond to any of your questions.