Smooth, healthy-looking skin can be yours through laser resurfacing. Harnessing the safe but highly effective power of the laser, resurfacing can remove the damaged outer layers of the skin, allowing for a smoother, blemish-free appearance for Baltimore facial rejuvenation patients. Wrinkles, age spots, acne scars, benign moles, and other imperfections can be removed with little pain and very few complications. The technology for laser skin treatment is similar to laser hair removal. Baltimore, Maryland patients who choose laser resurfacing are usually very pleased with their results, especially considering that there's very little chance of bleeding or other complications. For more information about laser skin treatments, request a consultation at the Center for Cosmetic Surgery & MediSpa today.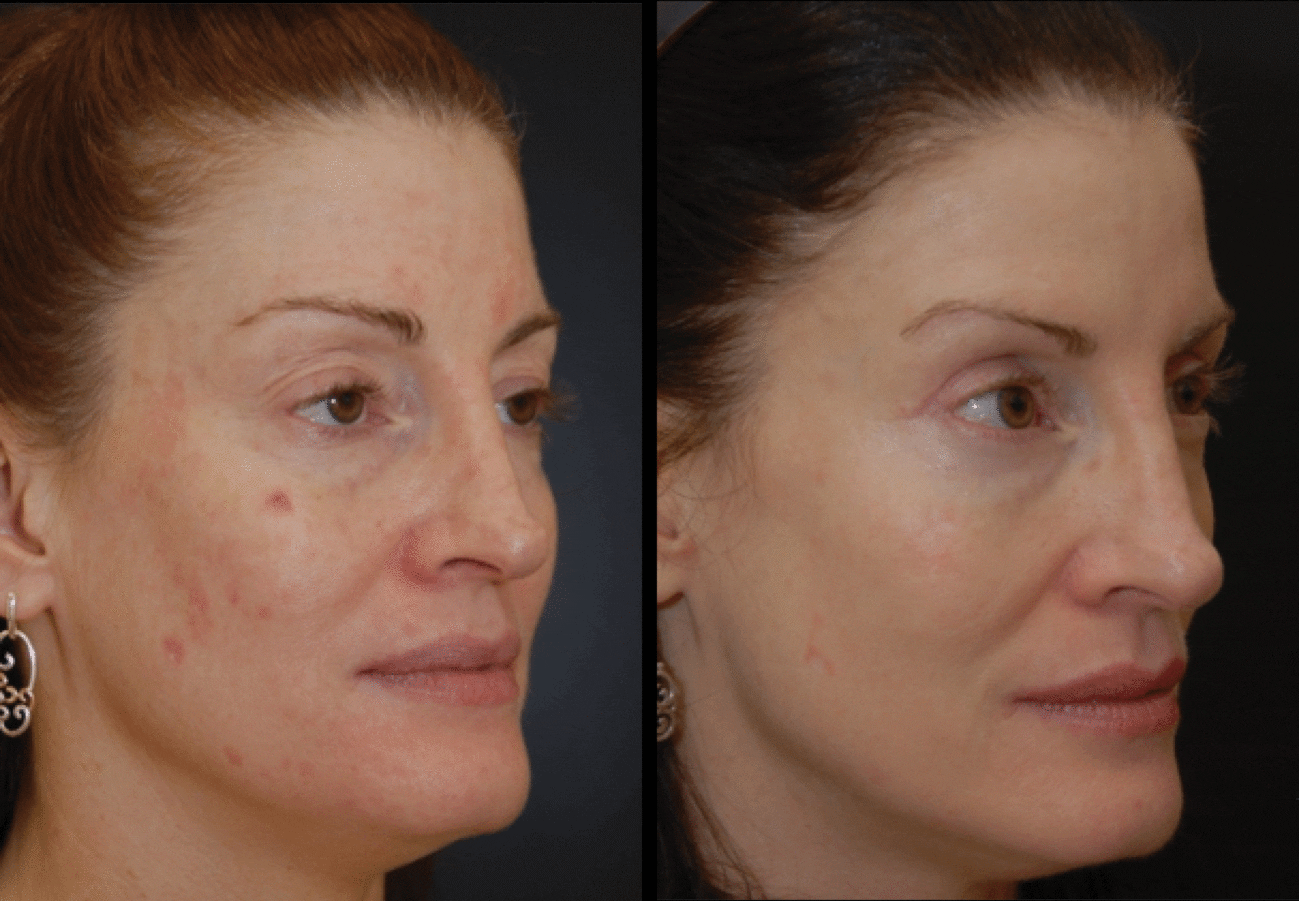 CLICK HERE FOR BEFORE AND AFTER GALLERY
Brown Spot Removal
Consistent, prolonged exposure to sunlight can easily damage skin. A common effect of sun exposure is the appearance of brown patches, oftentimes referred to as "sun spots, lentigos, freckles and liver spots." These areas of uneven pigmentation most often appear on the hands, face, chest, and arms, but they can show up on other areas of the skin as well.
At the Center for Cosmetic Surgery & MediSpa, Baltimore cosmetic surgeon Dr. Dean Kane and his staff use a variety of methods for treating sun spots. The GenteLase® laser removes sun spots quickly, safely, and comfortably. For those whose spots are less severe, Retin-A® /ZO skin preparation, liquid nitrogen and chemical peels have worked very well for long term improvement.
Alma IPL or Intense Pulse Light System is one of the newest and most effective lasers to treat unwanted facial redness, flushing and brown pigmentation problems. The treatment can be used on the face, neck, chest, hands, arms and legs. The benefits of IPL are to achieve smoother and even skin tones. Specifically, IPL will reduce all red issues stemming from acne, rosecea, broken capillaries, small spider veins, surgical red scars and any vascular lesions. For brown pigmented problems, IPL will minimize the discoloration from sun damage, freckling, age spots and skin imperfections. The advantage with photo rejuvination is that there is no down time and you can return to work immediately.
Package of 3 treatments recommended.
Sun Damage Therapy
Dr. Kane offers Levulan® Photodynamic therapy to treat sun-damaged skin, acne, and overactive oil secreting glands. Levulan® is a powerful topical solution that serves to tighten skin and enhance the efficacy of the Blue Light therapies. By making the skin more sensitive to light, Levulan® substantially improves the results that can be achieved with the Blue Light. When used in conjunction with the Blue Light treatment, which affords patients a non-invasive, pain-free way to improve a variety of skin conditions, patients can enjoy a marked improvement in unsightly skin conditions like acne, rosacea and uneven pigmentation.
People of all colors—from darker-skinned African-Americans and Hispanics to Asian-Americans and Europeans with fair skin—experience sun-damage. Dr. Kane's sun damage therapy can minimize the impact of sun damage and can also be beneficial for the removal of actinic keratoses, or pre-cancerous lesions, and vascular capillaries with Levulan® Photodynamic therapy with Blue Light.
Rosacea Therapy
Rosacea is a particularly noticeable skin condition that causes blushed cheeks, chins, and noses as well as excessive redness in other areas of the face. The condition can also take a more severe form that causes acne-like swelling and thickens the skin on the nose. Rosacea develops, for the most part, in people who are fair-skinned and 30 years old or older. With the help of a V-Beam laser, Dr. Dean Kane can treat the unsightly redness and broken capillaries that cause the coloration.
Neck Rejuvenation
Poikiloderma, or mottled pigment around the neck area, can affect many people who are exposed to the sun for prolonged periods of time. The condition is found most often in middle-aged or elderly women with fair skin. While poikiloderma does not necessarily cause particular health problems, many people who have the condition decide to undergo treatment for cosmetic reasons. By using a vascular laser, Dr. Kane can tighten skin and reduce the red neck band that appears as a result of poikiloderma.
Pixel or Erbium Fractional Laser technology penetrates deep in the skin to produce microscopic laser spots or pixels to resurface or exfoliate the outer dead layer of the skin, and stimulate collagen tightening. The results produce smoother, tighter and even skin. The Erbium Fractional Laser is perfect for smoothing textured skin problems from acne scarring and sun damage skin as well as shrinks large pores, stimulates new collagen growth to improve fine lines, crepey and lax skin texture and tone. You can expect your skin to be flush or red after the treatment, something similar to the look and feel of a gentle sunburn. This procedure includes a microdermabrasion "clean up" one week later to remove the flaking skin.
The number of passes done to the skin will produce greater exfoliation and tightening of the skin and pores. Two Pass Treatment will be deeper and more effective and is the standard process. Three treatments are recommended for maximum tightening benefits with 3-7 days of skin flaking.
If you suffer from sun-damaged skin or other facial conditions like acne, give us a call at 410.602.3322 or request an appointment online. Dr. Kane and his team are passionate about helping patients of all racial backgrounds look and feel their best in the safest ways possible. Treatments at the Center for Cosmetic Surgery & MediSpa can greatly benefit patients interested in facial rejuvenation in Baltimore, Maryland and surrounding communities. The office is located on Reservoir Circle in Baltimore.
TOTAL SKIN REJUVINATION: IPL & FRACTIONAL COMBINED TREATMENT
The combination of IPL and Fractional Lasers is the ultimate for skin rejuvenation for evening discolorations and textures. You will achieve the synergistic effect of getting a more evenness to your skin tones and tightening all in one treatment. IPL and Fraxel will stimulate a deep heating penetration within the skin tissues. The benefits are tighter, smoother skin surface, along with correction of fine lines and crepey skin tone around the eyes, neck and chest. The compliment of the two laser treatments will achieve visible improvements in all skin imperfections ranging from rosecea, vascular issues, acne pitting and old sun damage. Package of 3 treatments recommended