What Is Breast Augmentation?
Breast augmentation is a plastic surgery procedure that can increase the breast size as well as fix breast asymmetry. This procedure is among the most popular across the country. Also known as breast enhancement, breast surgery can make a woman feel more feminine, beautiful and self-assured. That's the reason nearly 300,000 women choose the procedure each year. 
---

---
View More Breast Augmentation Cases in Our Before and After Gallery
---
Who Is a Candidate for Breast Enhancement?
Women who are considering breast enlargement often want larger breasts. Patients can choose to enlarge their natural breasts or to restore lost volume, which commonly occurs after weight loss or pregnancy. All candidates can be assured that they will have their ideal breast size at the Center for Cosmetic Surgery & MediSpa.
---

This Maryland woman had a breast augmentation with silicone implants.
---
Breast Augmentation Consultation
Before the procedure, Dr. Dean P. Kane invites all of his patients to have a personal consultation. During this appointment, patients can discuss their desires and concerns about surgery. Then, Dr. Kane will share his plan and surgical techniques with you. Dr. Kane and his team strive to come up with the perfect procedure that will not just meet but exceed your goals.
Patients will also meet with Lauri Kane, the patient educator. Lauri has over 25 years of experience in educating patients about cosmetic procedures, specifically breast augmentation. 
---

This Maryland woman had a breast augmentation with Saline implants.
---
Choosing a Type of Breast Implant
Dr. Kane performs breast enhancement using saline or silicone gel implants. During your appointment, Dr. Kane and Lauri will review both of those implants and give you time to decide which is best for you. Additionally, patients will be able to go over pictures of other women who underwent the same procedure. This will give patients realistic expectations for their results. Patients even have the opportunity to touch, feel, and "try on" the implants.
---

This Maryland woman had a breast augmentation with Mentor Saline Implants 375cc. Placement of the implants was through the areolas and under the muscle or submuscular.

---
Breast Enhancement Surgery
There are different methods for placing the breast implant during breast enhancement surgery. Most commonly, Dr. Kane places the implants under the breast muscle. He will start by making an incision. There are several options for incision placement that will differ for each patient. Then, Dr. Kane will make a pocket under the muscle to fit the implant into. Dr. Kane feels that this approach provides patients with the best appearance after surgery. In addition, the placement hides the edge of the implants and allows for a smooth look. Once the implants are in place, Dr. Kane will stitch the incisions with small sutures. Dr. Kane also closes the outer-most layer with special medical grade skin glue so patients do not have to have the stitches removed. 
---

This Maryland woman had a breast augmentation with Mentor 375 High Profile Silicone Gel. Placement of the implants was through the areolas and submuscular. 
---
Will There Be a Scar After Breast Augmentation?
Whenever possible, Dr. Kane chooses to make surgical incisions along the bottom edge of the patient's areolas, where post-surgical scars will be nearly invisible. Other possibilities include under the breast along the crease and in the armpit.
---

After pregnancy and breastfeeding, this Baltimore woman desired a Traditional Breast Lift with Augmentation using Mentor High Profile 400cc Silicone Gel Implants. 
---
Where Does Dr. Dean Kane Perform Surgery?
Dr. Kane performs all his procedures, including breast enhancement surgery, in his private and fully accredited operating room. This is located in the comfort of our beautiful Center for Cosmetic Surgery location in Baltimore. During the procedure, patients will be under twilight to deep sedation anesthesia which puts them into an extremely comfortable sleep. Patients are completely breathing on their own throughout surgery and wake up without any pain or nausea.
---

This 32-year-old patient had a breast augmentation using Mentor 500cc Round High Profile Gel Implants. Placement of the implants was through a 2 inch incision within the areolas of the nipple.
---
Breast Augmentation Recovery
When patients have their implants placed under the muscle the recovery is generally more discomfort. Therefore, the recovery period is typically two weeks long. Patients will experience breast sensitivity, soreness, swelling, and sometimes temporary changes nipple sensation during this time. To relieve these symptoms for the first 24 hours Dr. Kane injects pain relieving medication into the chest muscles during surgery.
Patients with a less active or strenuous job can typically return within 6-7 days of surgery. For those that are more active or are mothers that need to lift children, Dr. Kane recommends waiting 2 weeks before returning to work. All patients need to refrain from lifting anything more than 10 pounds for at least 2-3 weeks. Within a week to ten days, most women feel they can resume many of their normal activities.
---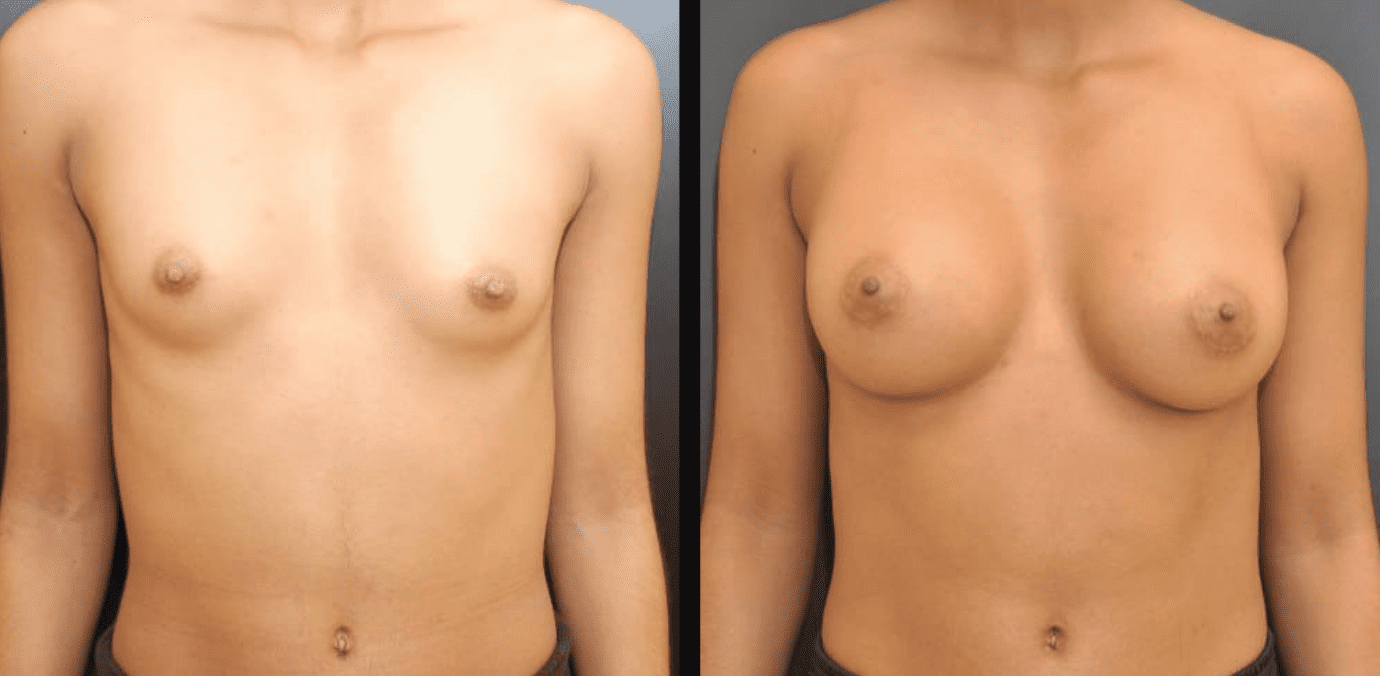 This Maryland woman had a breast augmentation with Saline Implants.
---
What Is the Cost of Breast Enhancement?
The cost of the breast augmentation with Dr. Kane at the Center for Cosmetic Surgery & MediSpa will be all-inclusive. This includes Dr. Dean Kane's surgical fees, the operating room fee, anesthesia fees, the cost of implants and all your post-operative follow-up appointments.
For breast augmentation with silicone gel or Ideal saline implants, patients can typically expect to pay about $7,500. With saline implants, patients will likely pay about $6,500. For patients that need financing options, Dr. Kane accepts CareCredit and Alphaeon.
---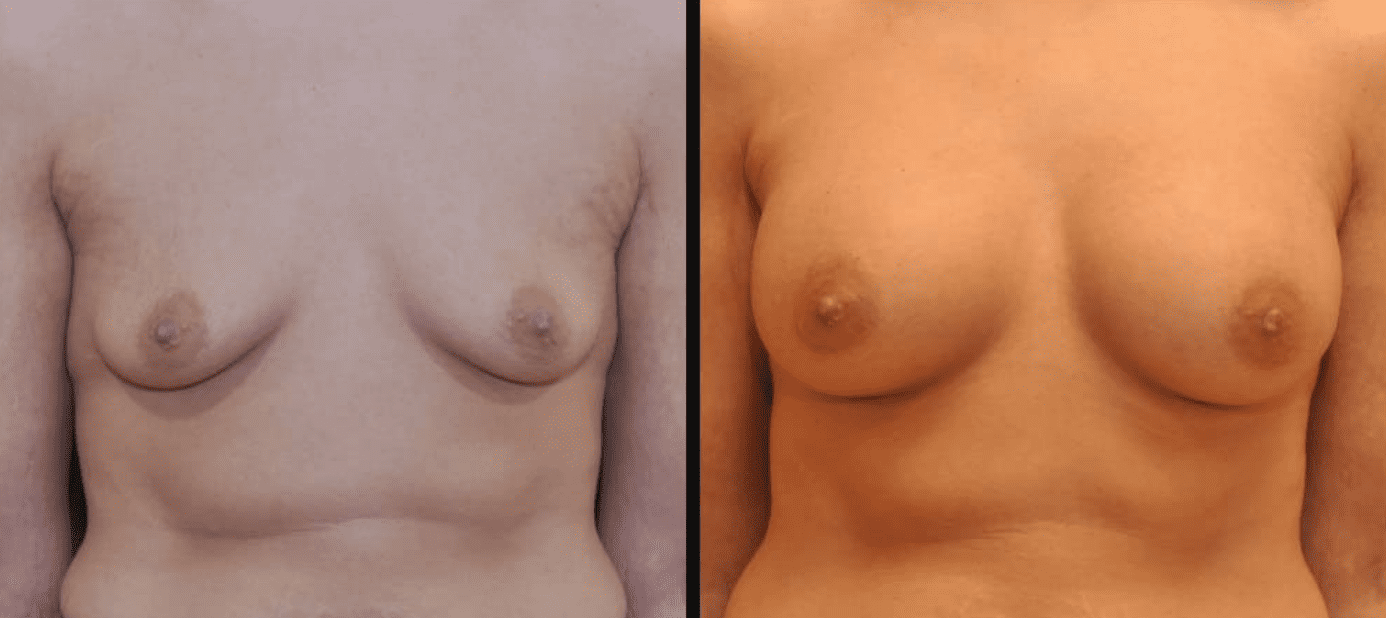 This Maryland woman had a breast augmentation at the Center for Cosmetic Surgery & Medi-Spa.
---
Schedule a Consultation
To learn more about breast augmentation and about Dr. Kane, call 410.602.3322 and schedule a consultation at the Center for Cosmetic Surgery & MediSpa today!
Patients can ask for Lauri Kane to get an estimate or answers to their surgical questions. Additionally, Lauri is happy to answer email questions at Lauri@DrDeanKane.com. Dr. Kane and Lauri look forward to welcoming you to their practice on 1 Reservoir Circle in Baltimore, serving Delaware, the Eastern Shore and southern Pennsylvania as well as Maryland communities like Annapolis.