Instant Liquid Facelift with Dr. Dean Kane

Do you want your face to look instantly rejuvenated and naturally refreshed? You can with Dr. Dean Kane's expert ability to perk, plump and restore volume and reduce wrinkles within one hour.
Dr. Dean Kane's Signature Instant Liquid Facelift rejuvenates the face from the forehead to the Jowls*. In the before and after photos of Dr. Kane's patients with Liquid Facelifts below, Dr. Kane used Botox in their brows, Restylane Lyft in their cheeks, Restylane Defyne in their nasal folds and Marrionette Creases and Restylane Lyft in their lips. A total natural instant transformation within one hour achieving immediate gratification.*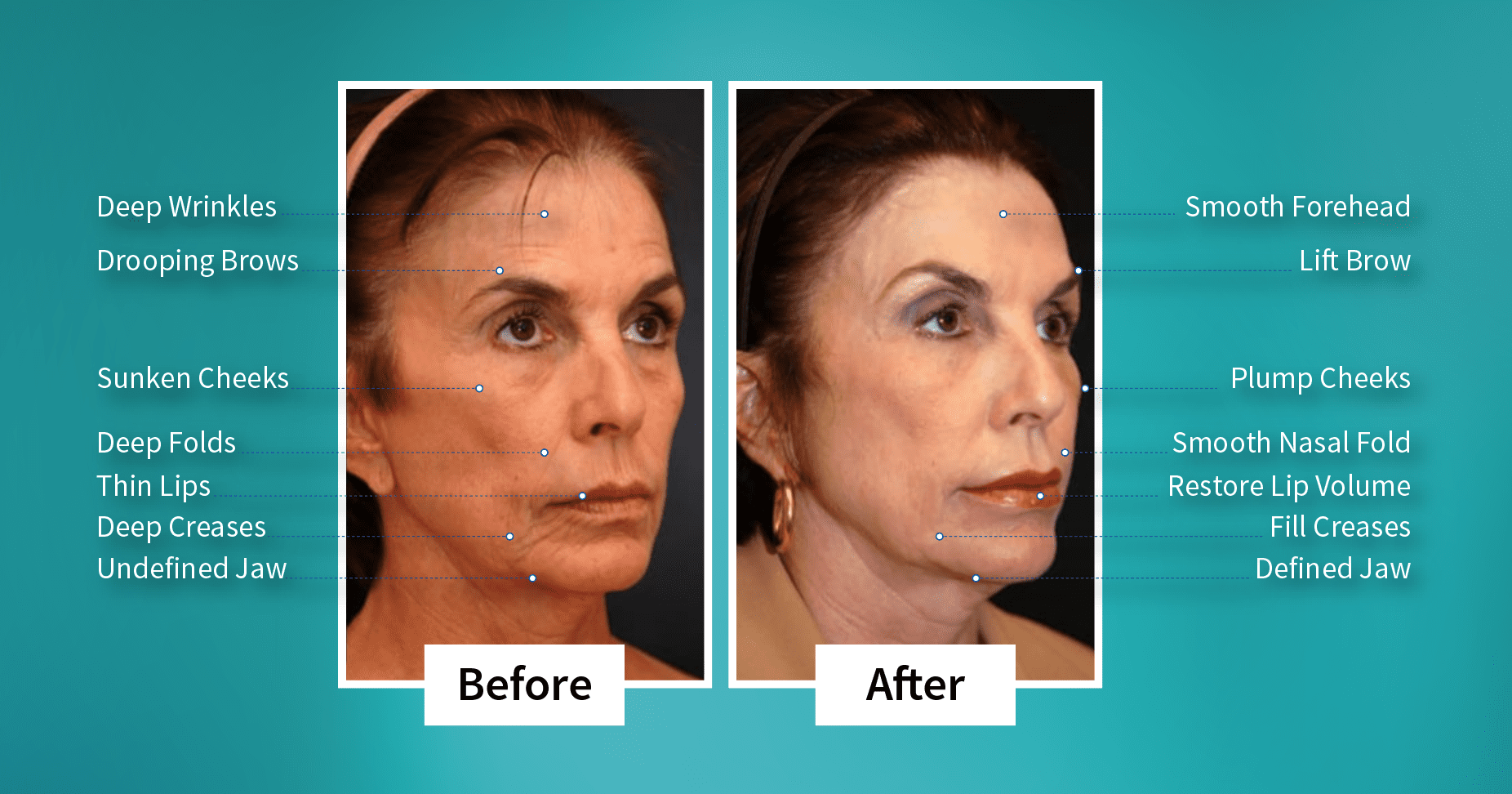 Above: Dr. Dean Kane's Actual Patient
*Individual results may vary from patient to patient.
Both patients had given Dr. Kane only 2 weeks to achieve total rejuvenations of their faces prior to both their sons' wedding to be picture perfect. Dr. Kane was able to achieve their liquid facelifts in one treatment session two weeks prior to their special occasion.
Our patients before and after liquid facelift.*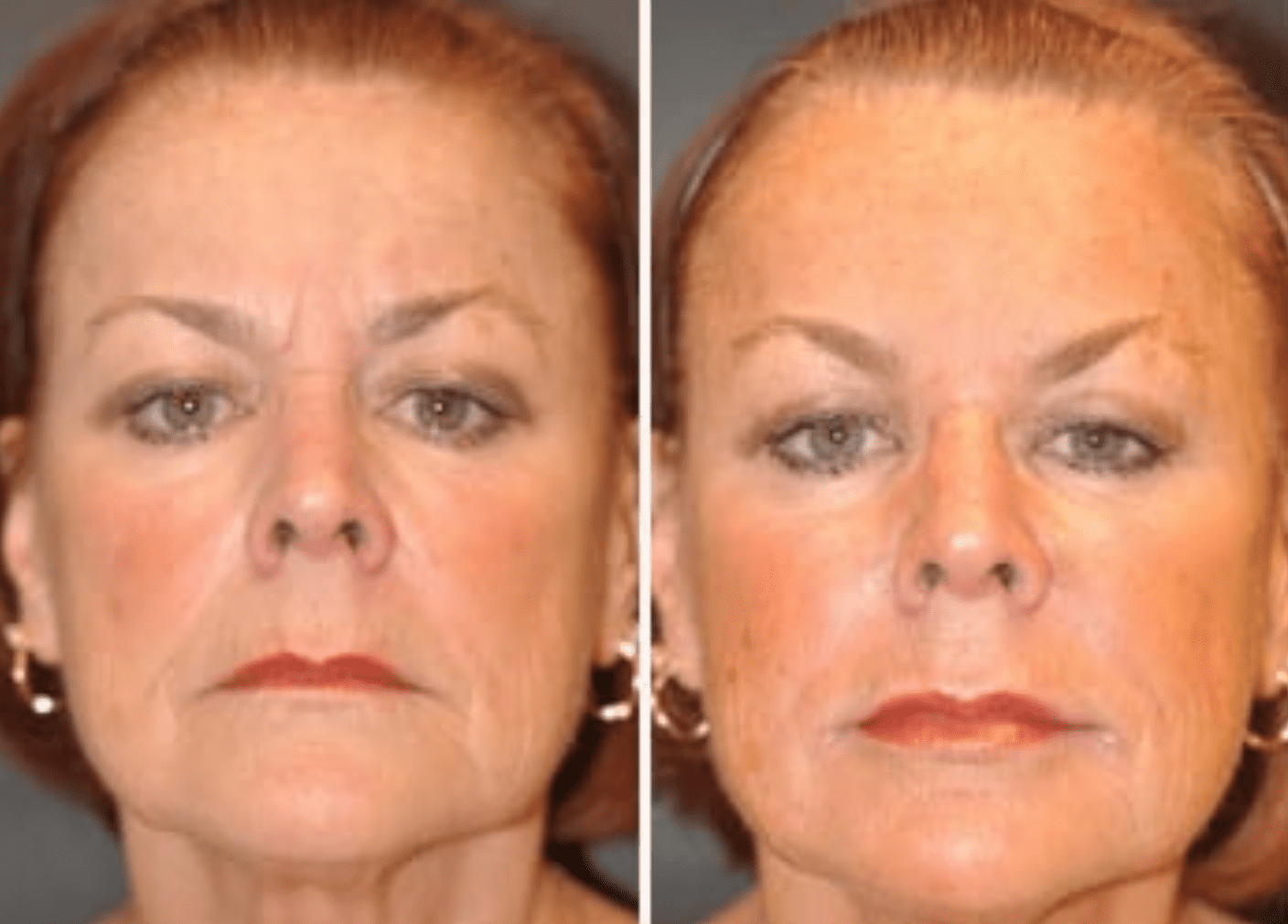 *Individual results may vary from patient to patient.
Non-Surgical Brow Lift with NewTox, Botox or Dysport
Dr. Kane uses the muscle relaxers or neurotoxins call Botox, Dysport or now Newtox to elevate the eyebrows with a beautiful natural arch, lifting the drooping eyelid hooding off your upper eyelids and give you a much open eyed welcoming appearance. Horizontal lines across the forehead are smoothed out and the crows feet are nicely diminished. The non-surgical brow lift effects lasts 3 to 4 months.*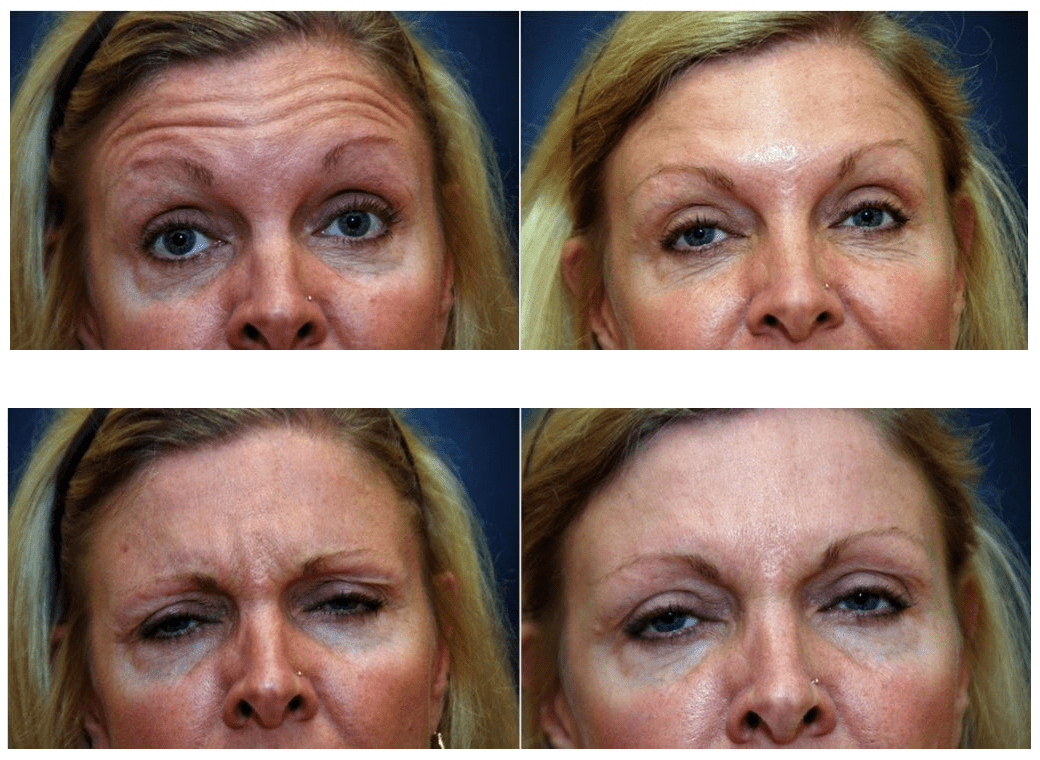 *Individual results may vary from patient to patient.
Cheek Plump and Lift with Dr. Dean Kane's "Nike Swoosh Cheeks"
Dr. Kane artistically can lift and plump the sunken area between the lower lids and upper cheeks. While aging plays a part so does genetics in the loss of fat causing the hollowness to occur in younger as well as the more mature patients giving women and men a very tired look with dark circles. Dr. Kane injects Restylane Lyft to fill in this hollowness of each upper cheeks. With a special cannula technique, Dr. Kane uses a blunted needle to try to prevent bruising and allows him to go deep under your own cheek tissues to plump up your natural cheek mound. Dr. Kane calls this plump cheek mound his "Nike Swoosh" because he leaves you with "apple of your cheek." Dr. Kane uses a minimum of a filler per cheek and the effects will last approximately one year.*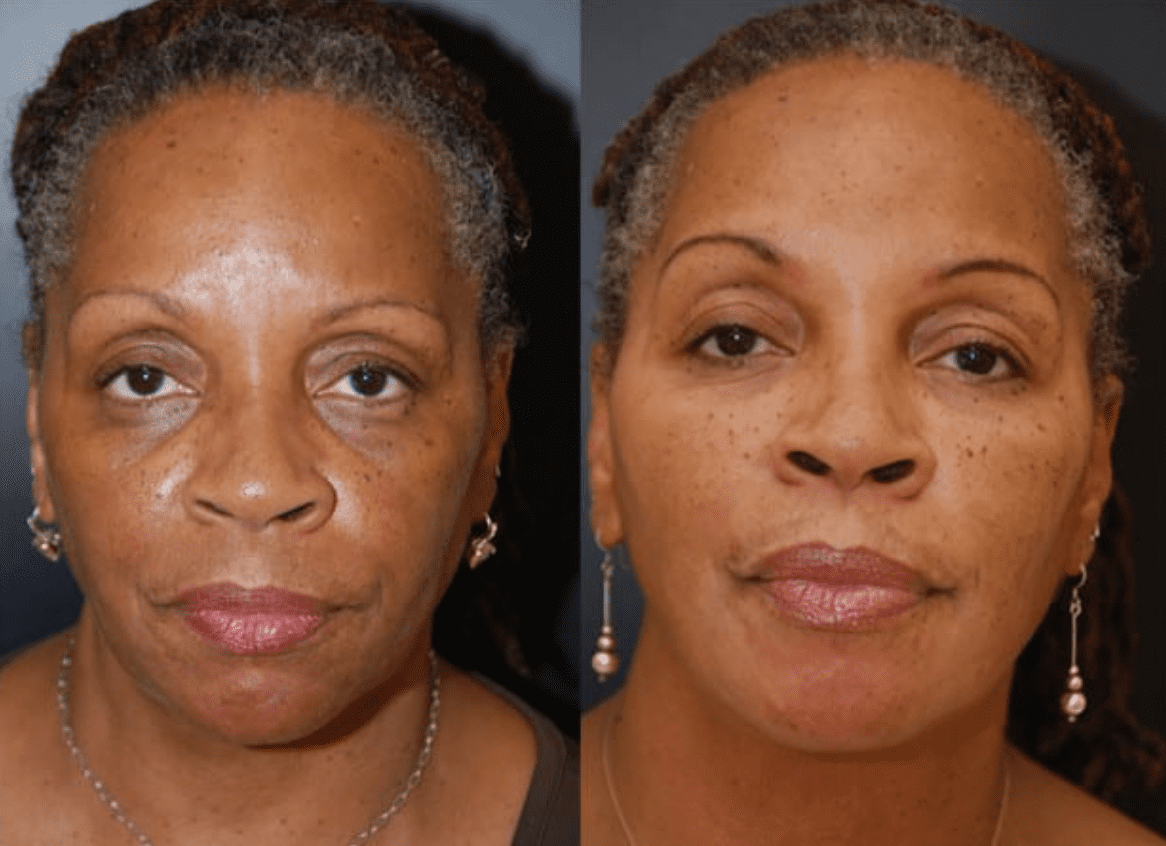 *Individual results may vary from patient to patient.
Lip Filler for Beautiful Soft Natural Plump Lips
Lips are one of the most important feature of a woman's face. Women are incredibly focused on maintaining their youthful smoothness and volume, but at the same time are terribly afraid of bad lip results and the pain of the injections as well. Goldie Hawn in the Good Wives Club and other movie stars today have displayed all that can go wrong and all that can look terribly exaggerated. Sadly most people don't realize that lip injections done right can be beautiful and extremely natural.
Dr. Dean Kane is truly an artistic with lips. He knows exactly how to inject, what to inject and how much to inject to get that perfect restored natural youthful lips and pout. He actively listens to his patients desires and selects a personalized approach to get your lips just right for your unique needs.*

*Individual results may vary from patient to patient.
Combination Treatments for Lips
Dr. Kane can use the combination of the muscle relaxers (Botox, Dysport or Newtox) to stop you from squeezing the lips and making them form the lip lines. Then he injects with Restylane Lyft or Defyne for plumping. If you don't desire bigger lips, but hate the lip lines, then Restylane Refyne is used in the lip border that spreads out the lines and give you soft natural lips without adding volume to the lips. There are really so many lip options and Dr. Kane is a true expert injector with 33 years of experience to get your lips just right for you.*

*Individual results may vary from patient to patient.
Reducing Painful Lip Injections
Regarding the pain of the injections, Dr. Kane has a wonderful numbing process that effectively alleviates the pain of the lip injection. While holding ice on the area of injection, Dr. Kane first injects a numbing medication into the wet underside of the lips which is much less sensitive and numbs both the inside and outside of the lips. If patients are still very sensitive, then Dr. Kane offers ProNox which is a laughing gas that gives a patient a euphoria sensation and reduces anxiety tremendously.*
The Drooping Corners of the Mouth
As the face ages, the skin laxity drops all aspects of the face, including the corners of the mouth. This downward turn of the lip corners make people appear angry, sad and upset. Dr. Kane uses Restylane filler in these corners to purposefully support and turn the corners upward. By supporting the corners this also helps pull up the skin of the marionette folds as well. So you get two improvements at once. For some women, their marionette folds and downward lips are severe enough that Dr. Kane recommends at least one filler per lip corner and marionette fold.*

*Individual results may vary from patient to patient.
 Fillers for Nasal Creases and Nasal Folds:  The Tricky Problem to Solve
If you have an actual deep wrinkle crease along your nasal fold, Dr. Kane likes to use a Restylane Defyne or Refyne to gentle fill in the wrinkle and to soften the actual crease line and smooth the quality of the line itself. These fillers are excellent to achieve a gentle smoothing of the wrinkle line itself.*

*Individual results may vary from patient to patient.
But not all nasal folds are the same. Some women have a very large nasal folds and hope that a filler would fill in the large area caused by the fold. This is a tricky area and too much filler placed in this area can actually make you look worse and not better. Adding more filler volume can make your face look even more bottom heavy with greater jowls. As you can see in the drawing below:  

*Individual results may vary from patient to patient.
The culprit to the nasal folds is due to the loss of volume in the upper cheek and the fat and skin have fallen down the face causing the fold to enlarge. When you try to fill in the nasal fold it can often look fuller and possibly not any better.  Dr. Kane believes in putting filler in the up the upper cheek to restore and plump up the lost volume which will lift the nasal folds and soften the appearance of the fold without adding more bulk to the fold.  Dr. Kane is trying to restore your face to a more youthful heart shape face and reverse the fallen jowls that cause the face to have a box like shape.*
Unhappy with your Jawline?
Whether you feel your jawline is uncharacteristically short or your jowling is causing irregularities along the jawline, fillers can help you extend your jawline or make it smoother and more defined. Dr. Dean Kane being an expert injector, has a gift to the art of injecting. Being a facelift surgeon, he knows how to contour the face to create a defined appearance using fillers without making the face look too bulky or too full. Different fillers can used in the jawline such as Radiesse or Restylane Lyft. Dr. Kane will determine which is best for your unique needs and goals. Both these fillers will give you a year long result.*
---
*Actual patients of Dr. Dean Kane. Results may vary from patient to patient. No results are guaranteed.