Whether you're looking to improve the health of your skin or you simply want to feel pampered and gain a special glow, we offer a wide variety of facial rejuvenation treatments for Baltimore, Maryland men and women at the Center for Cosmetic Surgery & MediSpa. With choices like the ZO 3-Step Peel®, the Retin-A Peel®, glycolic acid masks and peels and micro facials, we have options for anyone whose goal is softer, healthier skin, including people of African-American, Hispanic, Asian, and Caucasian backgrounds.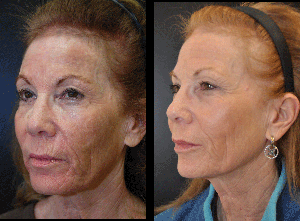 CLICK HERE FOR BEFORE AND AFTER GALLERY
Maybe you know which treatment will give you the results you're seeking, or perhaps you need some help deciding. Request an appointment with us and we'll work together to help you look and feel great.
Facials
Nothing can make you feel pampered quite like a facial. A superb way to remove toxins and impurities from your skin, facials are a tried-and-true method of deep cleansing, exfoliating, and massaging the head, face, and neck.
Dr. Dean Kane uniquely offers The Plastic Surgeon's Facial
A one hour powerhouse therapeutic facial especially designed to produce true exfoliation, deep cleaning, stimulation, toning and supreme hydration. More than the buff and puff, This Plastic Surgeon's Facial achieves a vibrant glow shedding layers of skin and improves the overall condition of the skin. The Facial begins with a rotary brush that thoroughly cleanses the skin and the pores. A diamond tip wand performs a microdermabrasion that gently exfoliates the dead layers of skin. A special anti-oxidant mask follows to provide an anti-aging protection and resistance to the harmful and damaging effects from the sun rays. Special attention is given to the eye area as a sonic infuser massages a hydrating cream into and around the entire face. The facial is completed with a massage to the scalp, face, neck and décolleté. The ultimate facial in pampering and therapeutic rejuvenation of the face and skin.
Summer Dual Refresher with Enzyme Exfoliation and Microdermabrasion
Battle signs of aging by improving the skins texture, firmness and smoothness. This facial starts with an enzyme peel to gently digest dead skin cells while capturing free radicals and helps prevent environmental damage to the skin. Followed with a microdermabrasion to aggressively exfoliate the stubborn damaging effects of summer. Unique cooling hydration mask helps to reduce puffiness and strained tired skin from summer burn out. This treatment will leave your skin polished, buffed and silky smooth.
Microdermabrasion Peel Facial
Revives Dull Complexion. Combination physical and chemical rapid exfoliation treatment with a lactic solution that exfoliates and smooths face for an instant glow and more even skin tone. A petite micro facial at the Center for Cosmetic Surgery & MediSpa in Baltimore, Maryland is very appealing for on-the-go patients seeking facial rejuvenation. Our petite micro facials include skin analysis with a gentle cleansing, NewApeelTM non-crystal microdermabrasion, a facial mask, and massage. Each treatment improves cell turnover, giving you healthy, radiant skin. We believe even the busiest of individuals deserves to have a glowing, soft complexion-our petite micro facials allow us to make it happen for them.
Deluxe Anti-Aging Treatment
As a purifying, preventative, and protective measure, our deluxe anti-aging treatment repairs sun-damaged and dehydrated skin to slow the appearance of aging. Individuals of all skin types can benefit from this anti-aging treatment, regardless of skin color, thickness, or current condition of the skin. Treatment starts with a highly-individualized facial which includes a gentle, glycolic acid-rich exfoliation followed by a custom facial mask and aromatherapy massage. We also include a hydrating hand or foot massage with warm mittens.
Chemical Peels
A chemical peel is an excellent way to refresh and rejuvenate the appearance of wrinkled, spotted, or otherwise aged skin. A special solution, containing glycolic acid, trichloroacetic acid (TCA), or liquid nitrogen, is applied to the skin to remove damaged outer layers and expose underlying fresh, smooth, unblemished skin. Glycolic peels are great for superficial treatment, and they can be a good option for patients with acne as the solution lifts layers of skin that block pores. With TCA peels the concentration can be varied, giving them more flexibility to treat a variety of facial conditions.
ZO 3-Step Peel®
The ZO 3-Step Peel® is a breakthrough in skin restoration. It's an exciting new way to refresh your skin by removing wrinkles, age spots, and scars while restoring elasticity. The peel solution, trichloroacetic acid (TCA), essentially removes the outer layers of the skin, exposing the undamaged layers underneath.
Epi-peel®
If your objective is silky smooth skin, consider the Epi-Peel® glycolic peel system. The Epi-Peel® treatment exfoliates dry layers of dead skin that inhibit the health and natural glow of your skin; the treatment also removes facial hair. The Epi-Peel® is an excellent alternative for patients who desire a change of pace from normal microdermabrasion exfoliation. A hydrating hand treatment is also included.
Acne Peel
Skin that is prone to outbreaks of acne often responds well to salicylic acid; the treatment can be especially effective for teenagers' mild acne breakouts. Dr. Kane and his staff combine acne peels with Oxy-Mist therapy to speed skin recovery.
Retinol Peel
The Retinol Peel promotes dramatic improvements in skin tone and texture. The exfoliation helps to minimize dark sun spots, sun damage, and even fine lines. The Retinol Peel is an ideal treatment for patients who are not good candidates for laser skin treatments and for patients of all skin colors. Patients of African, Asian, European, and Hispanic descent can all enjoy the benefits of a Retinol Peel treatment. This is one of our acne peels to conquer the daily problems of oil control, active acne and acne scarring. It uses the exfoliating combination of Retinoic Acid with Alpha Hydroxy Acids, and Resorcinol, safely and effectively to actively shed the outer layers of dead skin – the culprit of clogged pores and acne, fine lines and pigmentation problems. Not only works to control acne, but also gives great anti-aging results. Expect mild peeling and flaking, and 2-4 days of minimal recovery time. Compliments our home Emerge Skin Perfecting Line or Medi-Spa Therapeutic Acne Line beautifully.
Illuminize Peel
Ideal for the women looking for that immediate glow to her skin. Perfect for birthdays, special occasions, events, where you want to look radiant, but can't risk any redness, flaking or peeling, and don't have any down time. Non-invasive superficial gentle chemical peel utilizing a novel approach with the newest AHAs, Mandelic Acid and Malic Acid in combination with Phytic, Salicylic and Resorcinal peeling agents.
VI PEEL
Our newest, fastest medium depth peel that promises bright beautiful youthful skin within a week. Great for anti-aging, the VI Peel is a light resurfacing peel that reduces fine lines, wrinkles of the face, and lightens brown discolorations and pigmentation problems. A powerful exfoliation to help reverse the effects of sun damage and acne. VI Peel contains a synergistic blend of gentle, but powerful ingredients suitable for all skin types and ethnic backgrounds. No down time, minimal recovery and virtually painless. VI Derm Skin Products will be provided during the easy 4-5 day recovery period. Patients experience beautiful glowing and tighter skin within one week. This is one of our favorite choices of peels!
Appointments
No matter what your skin type and needs may be, if you live near Baltimore, Maryland, facial rejuvenation is close at hand. At the Center for Cosmetic Surgery & MediSpa, we welcome African Americans, Asians, Caucasians, and Hispanics. In fact, we have many years of experience designing individualized treatments for people of all backgrounds. Call us soon at 410.602.3322 or request an appointment online. We look forward to working with you in our offices on Reservoir Circle in Baltimore, serving Annapolis, Delaware and southern Pennsylvania.
Policies
Any changes to your appointment require 24 hours notice or all specials, discounts or coupons will be forfeited.